Brandeis Alumni, Family and Friends
The Language of Learning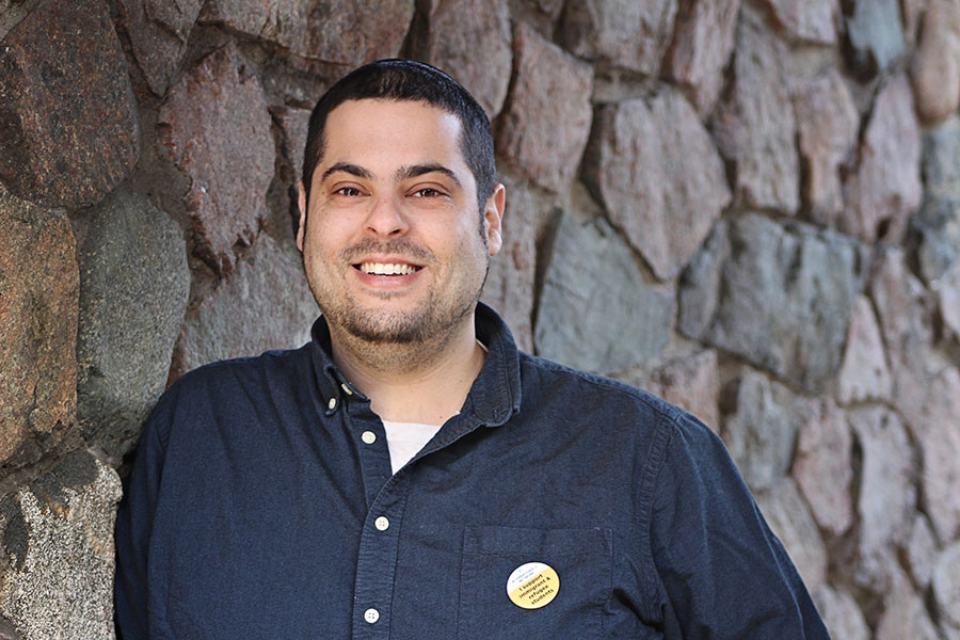 Photo Credit: Lori Morrow
By Brian Klotz
Last fall, Jeremy Heyman '08, MS'08, returned to the same Brandeis course that had drastically altered the trajectory of his life over a decade earlier: Education and Social Policy, taught by Professor Marya Levenson '64. No longer a student, Heyman came to share the insights he had gained from his experiences as a founding faculty member of the English Language Learners and International Support (ELLIS) Preparatory Academy in the Bronx.
As a chemistry major at Brandeis, Heyman originally intended to remain in higher education as a professor. Levenson's class, however, inspired him to shift his focus as he began to examine inequalities in education. "Where people grow up and the ZIP code of their high school shapes the opportunities they have," Heyman explains. "It's both very intriguing and very disturbing."
Levenson became Heyman's close mentor, and his planned academic path was altered. "I went from working to elucidate the structure of novel molecules in a lab to uncovering new ways to expand educational access," he says. After graduation, Heyman moved to New York City to take on the daunting task of helping to build a school from the ground up.
Founded in 2008, ELLIS serves newly arrived immigrants between the ages of 16 and 21. Many know little to no English and are classified as SLIFE — Students with Limited or Interrupted Formal Education. "The school's model is to intimately link content and language development in all classrooms at all levels," says Heyman.
Heyman joined ELLIS as a founding member of the science faculty and soon discovered his passion for individually mentoring students. His role developed into one focused on college advising integrated with science outreach and enrichment. "I worked on building relationships with universities, heavily advocating for students and connecting with the best institutions for their goals," he says. Two ELLIS students went on to attend Brandeis: Bankale Diane '18, who earned a degree in Health: Science, Society and Policy and is now working for the Dana-Farber Cancer Institute; and Lisbeth Bueno '19, who, like Heyman, is mentored by Levenson.
The initial years were difficult. As a newly founded school with a traditionally underserved student population, ELLIS had no reputation to speak of nor results to point to. "It was a challenge, especially in the early days, to get universities and other schools to buy into what we were doing," Heyman recalls. "Our students don't fit the typical mold of students who would go to a four-year college, let alone succeed in a STEM field."
As more students graduated from ELLIS, however, Heyman found that the best way to demonstrate the school's potential was the success of its alumni. "I can talk until I'm blue in the face about the capabilities of these students, but ultimately the proof is in the pudding," he says. Heyman witnessed so many success stories that they could fill a book — and they did.
While earning his PhD in science education from Columbia University, Heyman was encouraged by his advisor, noted academic and New York Times bestselling author Chris Emdin. "He told me, 'You have all these powerful stories, you should write a book,'" Heyman recalls. Titled "Without a Margin for Error: Urban Immigrant English Language Learners in STEM," the book is described by Heyman as "a more readable version of my dissertation, with more stories and fewer charts and graphs." A portion of all book sales support the ELLIS Scholarship Fund, which he started in 2017 to support DREAMers from ELLIS in pursuing their post-secondary goals.
Among those stories is that of a student Heyman calls Mamady (all students in the book are given pseudonyms). Mamady grew up in West Africa, where he contracted malaria as a child. Although the disease ravaged his community, there were few doctors or medical resources nearby. Not always able to attend school, Mamady had been separated from his parents as a toddler and had to work as a guard on his uncle's farm as a boy. Determined to thrive despite his circumstances, he applied himself to academics, even when it meant studying without electricity, by candlelight on a chalkboard. After moving to the U.S. as a teenager, mastering English as his fifth language and graduating from ELLIS, Mamady earned a bachelor's degree in pharmacology, followed by a second degree in nursing, and he currently works in an esteemed hospital in the Bronx.
Mamady's tale is one of many. "These students are amazing young people who turn adversity into strength and are determined to overcome any challenge put in their way," says Heyman, who hopes to dispel misconceptions about immigrant students who are English language learners. "They come to the U.S. with a wealth of lived experience that is often unacknowledged. They're frequently viewed through a very narrow lens, but they have a lot to contribute."
Heyman hopes his book will not only inspire readers but invite them to expand their thinking. "It shows that a lot of things are possible if you just question the status quo of opportunity structures," he says.
Published On: January 28, 2019