Brandeis Alumni, Family and Friends
Making Waves for Education Advocacy in Hawaii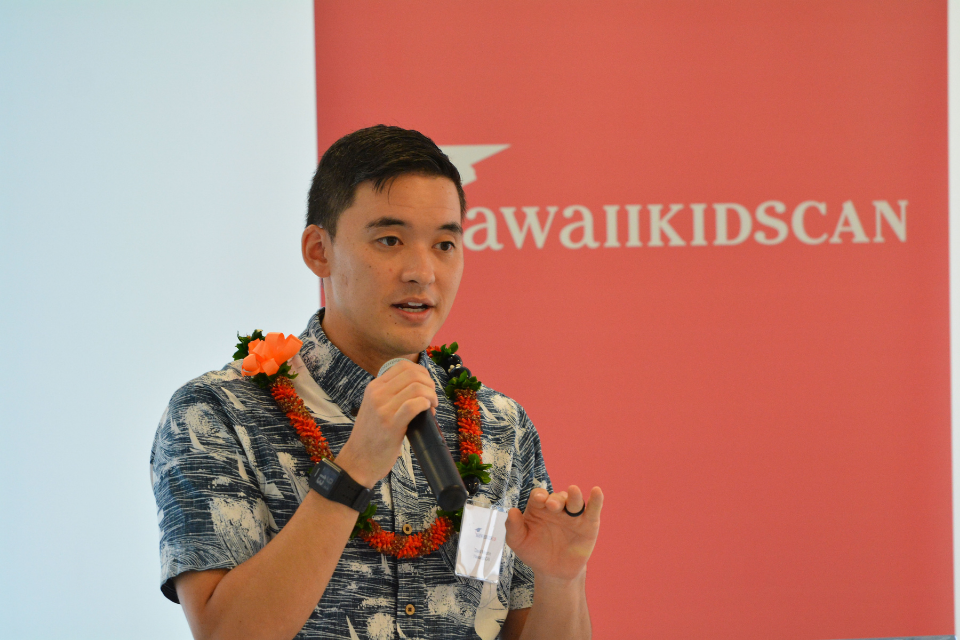 By Brian Klotz
David Miyashiro '08 likes a challenge. Whether fighting to improve public education in his home state of Hawaii or attending a university 5,000 miles away from home in a place he'd never been, he thrives on embracing hurdles as opportunities.
Miyashiro initially attended a university in Hawaii on a music scholarship but decided to change course. "I had a revelation about what I wanted my college experience to be," he says. "As much as I love Hawaii, I felt college needed to challenge me outside my normal comfort zone and ways of thinking." As a sophomore, Miyashiro made the bold choice to transfer to Brandeis University, sight unseen. When he arrived on campus for his first year, it was the first time he had set foot in Massachusetts.
Miyashiro declared a major in history after taking a class with Pulitzer Prize-winning historian David Hackett Fischer, University Professor and the Earl Warren Professor of History, Emeritus. "He has a magical talent for storytelling," Miyashiro explains. "He really brings history to life."
As an undergraduate, Miyashiro volunteered with The Waltham Group, tutoring at a local public middle school. "That got me interested in education as a career path," he says. In his senior year, Miyashiro worked as a campus recruiter for Teach for America, in which he would take part himself after graduation, returning to Hawaii to teach special education language arts at Wahiawa Middle School.
An eye-opening experience
During the recession in 2009, a budget conflict between the Hawaii state government and teacher's union resulted in "Furlough Fridays," in which all 256 of the state's public schools closed for 17 consecutive Fridays as a cost-cutting measure. "Hawaii already had one of the shortest academic calendars in the nation, and losing all that time made the students have to catch up even more," says Miyashiro. "It opened my eyes to the importance of politics and advocacy."
Frustrated with the experience and wanting to make a difference, Miyashiro returned to Massachusetts to earn a master's in education policy at the Harvard Graduate School of Education. Afterward, he worked as press secretary for U.S. Senator Mazie Hirono in Washington, D.C., and as communications director for the congressional campaign of Ann Callis in Illinois.
In 2015, Miyashiro returned to Hawaii to take an administrative role with Teach for America, and two years later he became the founding executive director of HawaiiKidsCAN, a nonprofit that serves as the state's branch of the national education advocacy organization 50CAN.
"It was a real privilege to take this on," he says. "It made sense: I had political, educational and nonprofit experience, and this pooled together all three of these elements in a cohesive way."
Building in the "why"
With a mission to improve the quality and equity of public education in the Aloha State through research, grassroots organizing and direct advocacy, HawaiiKidsCAN prides itself on engaging young people in the process. "We've seen that when we talk about civic education for kids, it's so often focused on the process, the 'Schoolhouse Rock' model – this is how a bill becomes a law, this is how many senators there are, and so on," says Miyashiro.
"As a society, we don't actually give kids hands-on experiences that aren't simulated. We focus on voting as the end-all-be-all, but there's no age limit to provide testimony for hearings or start a social media campaign. It's almost like students have to play catch-up when they turn 18, and then we wonder why youths don't vote. We don't build in that 'why' for them as opposed to just the 'what' or the 'how.'"
To that end, HawaiiKidsCAN started the We Are Voices of Education (WAVE) program, through which teens and adolescents learn about grassroots advocacy and running a social justice campaign, among other skills. Leading up to the 2018 midterm elections, HawaiiKidsCAN partnered with a local television station to hold primetime forums in which young adults asked candidates the questions via video. "We noticed a lot of debates would get nasty and personal very quickly rather than focusing on the issues," says Miyashiro, "and this way, it eliminated that back-and-forth and allowed kids to ask questions that are important to them."
Despite having been in existence for just over a year and having a staff of only two (Miyashiro is joined by Community and Outreach Manager Aisha Heredia), HawaiiKidsCAN has already made an impact. The organization successfully advocated for HB 2607, a bill in the Hawaii State Legislature that increased public schools' focus on and funding for computer science education. Hawaii Governor David Ige invited Miyashiro and Heredia to be in attendance when he signed the bill into law in June.
A "CAN-Do" spirit
Miyashiro attributes much of HawaiiKidsCAN's success to being a part of 50CAN, which provides them with technical, logistical and strategic support. "Having the benefit of that infrastructure is huge," he says. "If I had to start this completely from scratch, it would be a completely different experience." HawaiiKidsCAN also boasts the support of an advisory board and numerous community partners.
Hawaii's unique geography and culture present both advantages and challenges to HawaiiKidsCAN's work. The entire state comprises a singular school district, meaning changes have to go through only one superintendent and board of education. Its diversity, however, makes the importance of language learning programs all the more pressing. "Given we have a number of immigrant communities and immigrant students, it creates a strong need for dual-language immersion," says Miyashiro.
In recognition of his efforts, Miyashiro received the "CAN-Do Award" from 50CAN in September based on votes from each of its member organizations. He is quick to note, however, "For every personal recognition, there are so many people behind the scenes that make it possible."
In bestowing the award to Miyashiro, 50CAN cited his relentless optimism, a necessary ingredient in the world of grassroots advocacy. "My philosophy is to focus on the positive, never get too high or too low, and be opportunistic when opportunity comes but don't beat yourself up when something doesn't work out," he explains.
Miyashiro credits his alma mater with helping him form this outlook. "I never would have developed my appetite for risk-taking if I hadn't been able to grow my perspective at Brandeis," he says. "I'll always be grateful that they took a chance on the kid from Hawaii who had never visited Massachusetts before."
Published On: December 12, 2018