Brandeis Alumni, Family and Friends
A Man on a Mission for Colon Cancer Awareness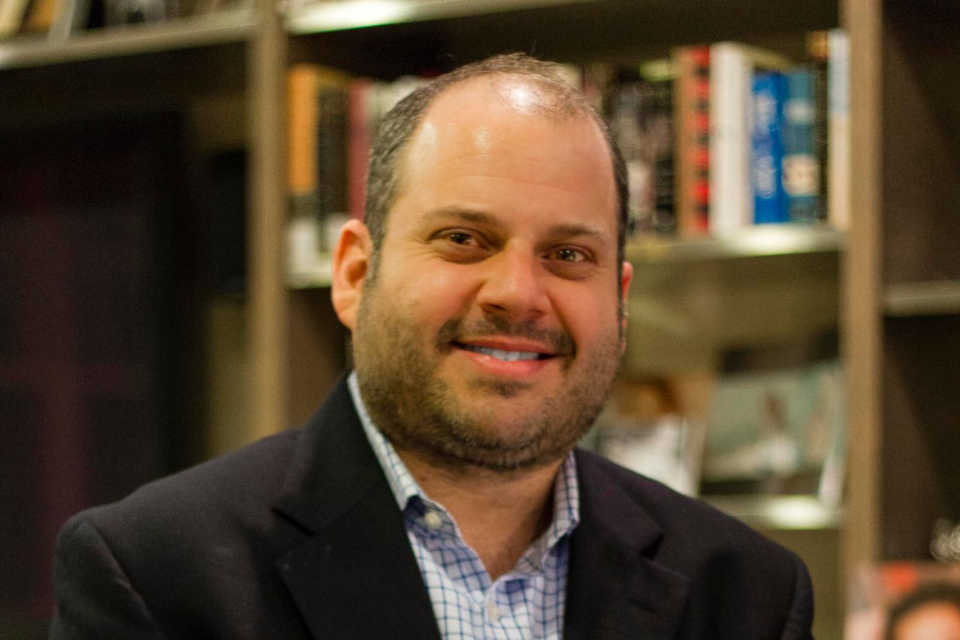 By Brian Klotz
In August 2017, Dr. Andrew Albert '96 lost a patient to colon cancer in a case that would have been fully preventable with proper screening. That same day, he found a tumor in another who, when asked if she had ever had a colonoscopy, responded, "What is a colonoscopy?" Feeling helpless, Albert decided to take matters into his own hands – or on his back, as it were.
Albert, a gastroenterologist and Medical Director at Advocate Illinois Masonic Medical Center in Chicago, wrote out a sign that read, "Lost a patient to colon cancer. Did not need to happen! Get your colonoscopy!" He clipped the sign to his back and rode his bicycle 12 miles through the city, drawing attention and support from onlookers.
Albert posted pictures of his journey on Facebook, and soon his desperate mission to raise awareness became a global viral sensation with the hashtag #BackOffColonCancer. From North America to Europe, the Middle East and Japan, medical professionals, survivors and family members began sharing their stories and posting photos of themselves wearing signs with similar messages on their own backs. A year later, Albert's Twitter feed remains full of images of people wearing signs written in numerous languages to advocate for colorectal cancer screening.
"The message is strong because people are dying every day," says Albert. "About one in 21 people will get diagnosed with colon cancer, and it is 95 percent preventable." In light of his ongoing advocacy, Albert has been named one of the Most Inspiring Chicagoans for 2018 by StreetWise, a workforce development agency that aids individuals facing homelessness.
Earlier this year, the American Cancer Society lowered the recommended age to begin routine colon cancer screening from 50 to 45. Colon cancer is usually asymptomatic in its early stages, and by the time many patients see a doctor, it is too late. 
This frustration inspired Albert to embrace a penchant for grassroots, community-based activism born at his alma mater. A New York native, he came to Brandeis knowing he wanted to be a doctor and began a pre-med track. Needing to take additional courses to fulfill curriculum requirements, however, Albert found himself in a class taught by Professor of African and Afro-American Studies (AAAS) Wellington Nyangoni.
"Dr. Nyangoni opened up my mind to struggles within the community, the hardships people face in different minority populations and how you can make an impact to change behaviors and understand barriers," says Albert, who graduated from Brandeis in 1996 upon completion of a major in Psychology and minor in AAAS. "I never would have added that focus on AAAS if not for Dr. Nyangoni."
Albert credits his Brandeis experience with showing him how a doctor could expand his or her thinking beyond the examination room and be aware of disparities in access to health care between different populations. He notes that he gained valuable preparation for his current work from his time volunteering with the Brandeis Emergency Medical Corps (BEMCo) and as a coordinator for the Waltham Group, which he explains taught him "how to build programs within the community."
At the Advocate Illinois Masonic Medical Center, Albert has applied these principles, working with colleagues to increase the percentage of their patients who received cancer screenings. Through efforts such as streamlining the referral process and conducting community outreach, this figure rose dramatically from 25% in 2014 to 70% in 2016, earning the organization the Grand Prize at the "80% by 2018" National Achievement Award from the National Colorectal Cancer Roundtable.
Not content to rest on his laurels, Albert continues to do everything he can to spread awareness of the importance of colon cancer screenings. Recently, he has been personally distributing fecal immunochemical tests – which individuals can use to test for colon cancer after sending samples to a lab – throughout the community, whether it be a pharmacy or an auto repair shop. "I've learned that we need to be more proactive in our approach," he explains. "If patients won't come to us, we go out to them. Every day I want to go somewhere new."
Albert is aware that matters of the colon can be difficult to discuss, but maintains it's a subject worth addressing. "People don't want to talk about it, but 50,000 people die each year from colon cancer, and no one should have to die from something so preventable."
Published On: August 23, 2018