Brandeis Alumni, Family and Friends
Wien Scholar Gives Back to Support Today's Students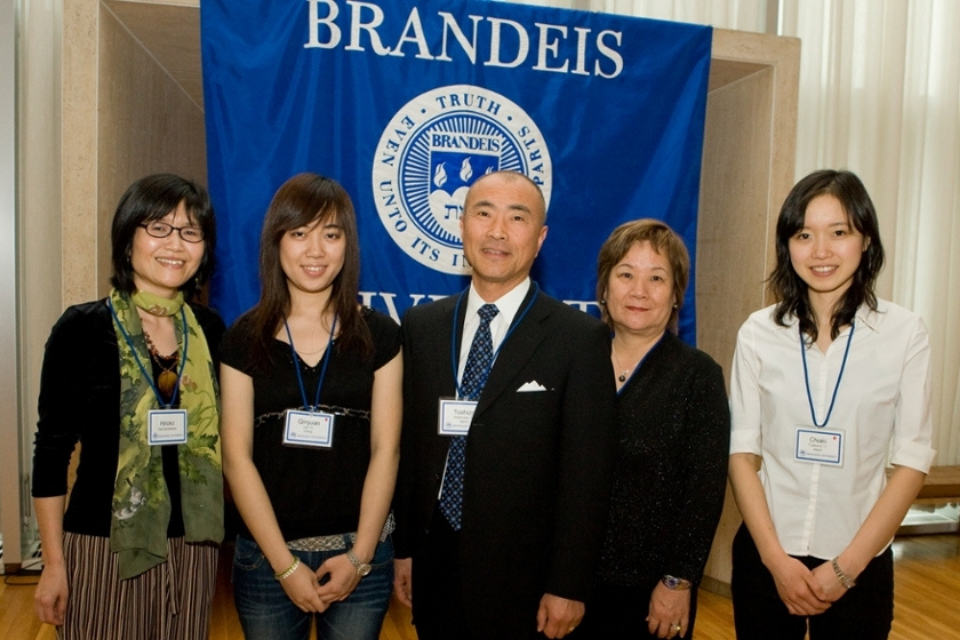 By David E. Nathan
It took the passage of time for Tom Watanabe '73 to fully comprehend the impact that the life-changing gift of a Wien scholarship had on him.
In the years immediately following his graduation, the native of Japan felt little appreciation for the financial support Lawrence and Mae Wien had provided him to study at Brandeis, believing that it was incumbent upon wealthy businessmen like Wien to support the less fortunate.
But in 1988, Wien himself altered Watanabe's outlook on philanthropy during his address at the 30th anniversary celebration of the Wien International Scholarship Program at Brandeis. Watanabe traveled from Tokyo for the get-together, marking the first time he had returned to campus since he graduated.
"The speech Mr. Wien made at the event had a tremendous influence upon me," remembered Watanabe, chair emeritus and former president/CEO of Nikken Global, an international home wellness products company. "He said he derived more satisfaction from supporting the Wien International Scholarship Program than from making money in business.
"That is when a seed was planted for me," Watanabe said. "Since then I have always wanted to repay the Wien family's generosity by helping other students."
In the spirit of helping the next generation of international scholars, he established the Toshizo Watanabe Foundation in 2008 with a gift of $5 million, and added another $8 million in the intervening years. The foundation, which supports scholarships for undergraduate and graduate students around the world, recently made a generous contribution to Brandeis in support of the Wien program.
When he arrived at Brandeis in the fall of 1971, Watanabe was one of the few Asian students on campus. He felt somewhat isolated from his native culture and joined a number of Asian-centric groups, including the Japan America Society in Boston. In the classroom, Watanabe majored in political science, but also enjoyed several courses outside his area of study, including architecture and Japanese art.
He struck up an immediate friendship with his roommate, Geir Haarde '73, a Wien Scholar from Iceland. Although neither could converse in the other's native language, they communicated in English, and are still friends nearly 50 years later.
"He spoke English with a very strong Icelandic accent and I spoke English with a very strong Japanese accent, but we were able to communicate with each other," Watanabe said. "Geir would endearingly laugh at my funny pronunciation of his name. I was never able to pronounce it properly, although I tried very hard."
The two former roommates spent time together at the Wien program's 50th anniversary celebration in 2008. Prior to the event, Watanabe had exchanged emails with Haarde, who was then serving as prime minister of Iceland, about establishing a student exchange program between Japan and Iceland. The initiative was established later that year, and continues to grow. This spring, Watanabe traveled to Reykjavik to attend a scholarship awards ceremony for the current exchange students and researchers – 10 from Iceland and four from Japan.
"The Wien scholarship meant so much to both of us that we wanted to do our part to support students and further international understanding," Watanabe said.
Published On: June 23, 2016