Brandeis Alumni, Family and Friends
'Embrace the Power of Collaboration and Diversity': Brandeis Celebrates the Class of 2023
May 21, 2023
Campus was bursting with spring color and jubilant celebration as Brandeis held its 72nd Commencement exercises for more than 1,700 undergraduate and graduate students May 21.
In re-designed Commencement celebrations, immunologist Drew Weissman '81, GSAS MA'81, P'15, keynoted the undergraduate ceremony in the morning, while Pulitzer Prize-winning historian Annette Gordon-Reed addressed graduate students in an afternoon ceremony. 
Weissman, a research professor at the University of Pennsylvania's Perelman School of Medicine, received an Honorary Doctorate of Science, as did his research partner, Katalin Karikó. Gordon-Reed received an honorary Doctorate of Humane Letters, and real estate developer and philanthropist Donald Soffer '54 received an honorary Doctorate of Humane Letters.
'Embrace the remarkable potential of science'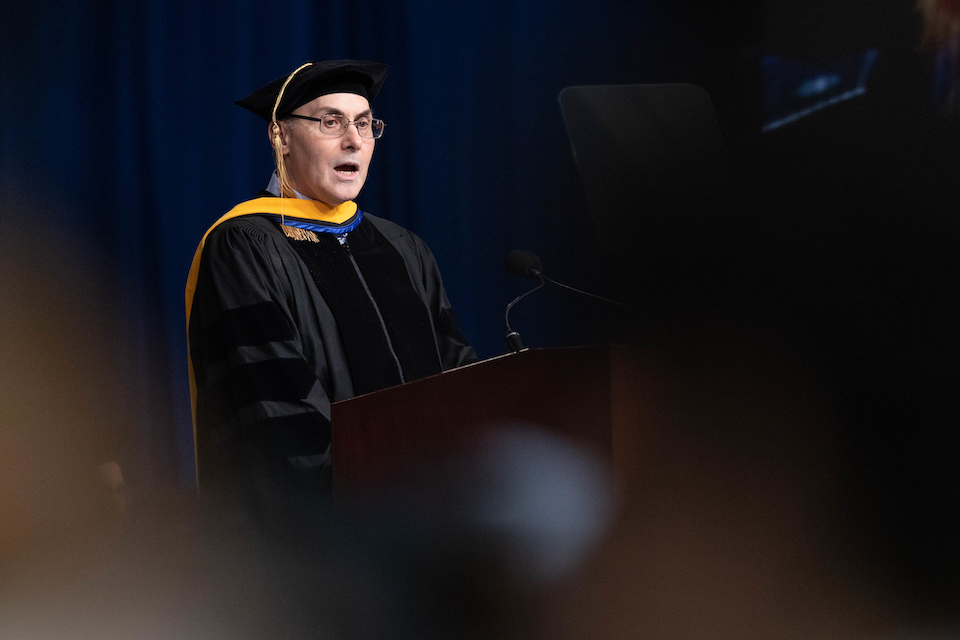 In all, 884 students received bachelor's degrees in Gosman Sports and Convocation Center, where Weissman described Brandeis' influence in shaping him as a scientist and as an individual.
"It is here that I honed my critical thinking skills, starting as a freshman in Shapiro Hall, and nurtured my passion for scientific exploration in Professor Gerry Fasman's biochemistry lab," Weissman said. "I learned the value of collaboration and open-mindedness while being an active student, campus member, and part-time activist."
Along with Karikó, Weissman made a groundbreaking discovery in 2005 that ultimately led to the development of the COVID-19 vaccine. They discovered that by engineering a modified version of messenger RNA and developing a system to deliver it, the immune system could be tricked into thinking the body is infected with a virus, and, in response, produce antibodies to create at least partial immunity.
"We never imagined its proof of concept would be a vaccine to address a once in a century global pandemic," Weissman said. "We did, however, immediately grasp the enormous potential of this technology over 25 years ago to develop new treatments and cures for many different diseases. This is why we never gave up developing mRNA, even though we hit every possible roadblock, including lack of funding and dismissal by scientific publications."
Scientific research is critical to addressing the most complex challenges we face, from cancer to global warming, but it does not occur in a vacuum, he said.
"Progress does not happen in isolation. Scientific discovery and human progress is a shared endeavor that thrives on the exchange of ideas, diverse perspectives, and interdisciplinary collaboration," Weissman said. "Embrace the power of collaboration and diversity, for it is through these connections that we spark innovation and drive transformative changes. It is critical, as scientists and citizens, to ensure we are a force for good."
He encouraged the graduates to champion the spirit of perseverance and never lose sight of the values their Brandeis education instilled in them.
"The people sitting next to you today will be the next leaders in their fields, but they will also remain your friends and colleagues, as mine have," he said.
He also urged the Class of 2023 to "embrace the remarkable potential of science."
"As we celebrate this momentous occasion, and you all bid farewell to Brandeis University, let us carry with us the spirit of perseverance, the hunger for knowledge, and the desire to create a more just and sustainable society," Weissman said. "Each one of you has the potential to make a profound impact, shape the future, and leave an indelible mark on the world."
Undergraduate speaker Nathalie Vieux-Gresham '23, GSAS MS'23, recalled the first night of New Student Orientation in 2019, when each member of the Class of 2023 was asked to write a word of affirmation on an electronic candle before lighting it. Her word? Confidence.
"When I wrote 'confidence' on my little candle, it was originally a wish that I would have confidence in myself, my decisions, and my ability to succeed," she said. "Now, it has evolved beyond that into confidence in each one of us, and in our community."
Vieux-Gresham, a Posse Scholar, offered words of encouragement to first-generation graduates and graduates of color.
"Some say to reach for the stars, but I can see we have all already become stars. I hope you leave this chapter filled with confidence in yourselves, in your community, friends, family, and loved ones, and in Brandeis," she said. "As you carry your raison d'être, French for 'reason to be,' move with faith. Whether you trust your mind, your gut, or your heart, find confidence in your innermost parts."
Brandeis President Ron Liebowitz recognized the graduates for their perseverance and ability to adapt through the COVID-19 pandemic.
"You adapted and persevered with an openness to new ways of learning and a willingness to 'go with the flow' without knowing when things would return to normal," he said. "You found ways to come together as a tight-knit community and to support one another, despite harsh restrictions that tested your mettle."
Liebowitz led a moment of silence for Vanessa Mark, an undergraduate student who died in a shuttle bus accident near campus in November 2022.
Before graduates made their way to the stage to be greeted by Arts and Sciences Dean Dorothy Hodgson and President Liebowitz — a feature new to Commencement this year — Alumni Association President Lewis Brooks '80, P'16, welcomed the class into the alumni community.
"You can and should reach out. Say hello to Brandeisians. Trust me, they'll like that and so will you, and you never know what doors it will open," he said. "Stay connected. When you can, help introduce Brandeis to prospective students, and act as a mentor to existing students. Help another alum when asked. Ask your alumni network for help when you need it. And give back when you can."
'Keep in touch with the spirit that kept you going'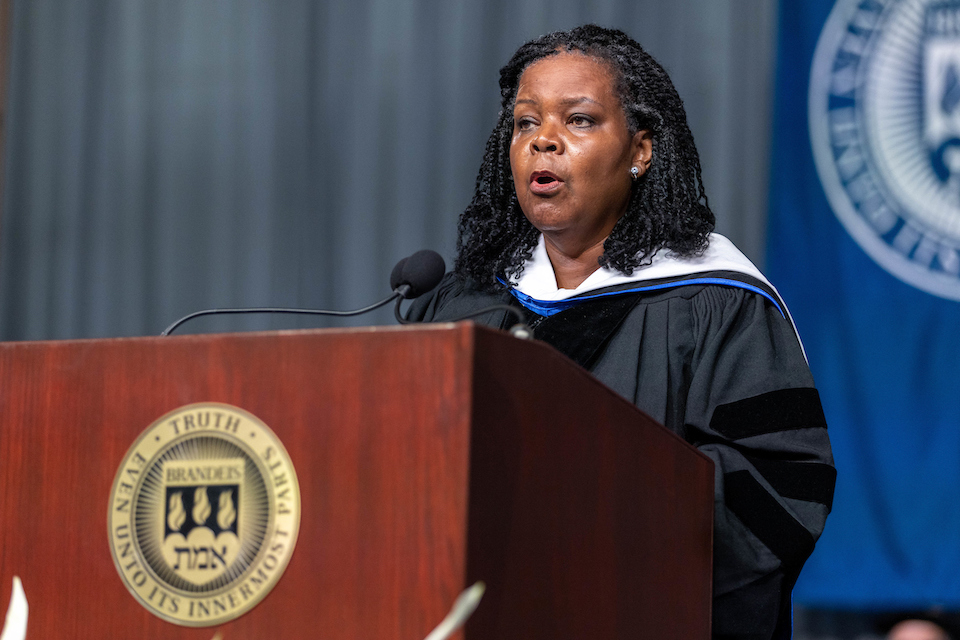 Photo Credit: Gaelen Morse
In the afternoon, hours after the morning ceremony concluded, Gosman filled again with family members and friends to celebrate degree recipients of Brandeis' graduate schools.
Historian and Harvard professor Annette Gordon-Reed told the graduates that in the face of anti-intellectualism, their work was more important than ever.
"Although it has been commonly observed that there is a strain of anti-intellectualism in the United States, I believe that the stronger tradition has been in favor of the idea of improving oneself — and, thus, improving the country — through dedication to study and hard work," she said. "The anti-intellectual strain may always have been present, but it has not been the predominant impulse in American life.
The desire to pursue academic expertise and excellence helped propel the United States into the forefront of the world, in science, technology, medicine, and the humanities, but today, higher education is under attack, Gordon-Reed said.
"As a result of these attacks, one of our country's greatest assets — our colleges and universities which are, and should be, the envy of the world — are portrayed as venues for producing enemies of American citizens and American values," she said.
She urged graduates not to let such attacks deter them from exploring their passions and solving the world's most critical problems.
"Disregard all disparagement of what you have committed yourself to over the past several years," she said. " … Keep in touch with the spirit that kept you going and, I'm sure, brought you great joy as you mastered your field of endeavor. In sum: Keep the faith."
President Liebowitz told the graduates to continue to build on what they have learned at Brandeis with confidence.
"Contribute to helping to repair the world in whatever and whichever way you can; there is no shortage of things that need our attention: Increasing inequality, widespread poverty, multiple forms of hate, senseless gun violence, the accelerating impact of climate change, and the general societal divisions that dominate our national and international politics — all of these provide daily reminders of how much work we all have ahead of us," he said.
"But because you have been educated to think critically and act compassionately, and because of your generation's unprecedented focus on the need to address many of the world's pressing challenges, we should all feel a good dose of optimism about our future."
Liebowitz led a moment of silence for Christian Yemga '11, IBS MA'13 who was a graduate student at the International Business School when he died in an automobile accident last year.
Emiliano Gutierrez-Popoca, GSAS PhD'23, delivered the graduate student address. While earning a doctorate in English, he also served as the co-director of the Brandeis Writing Center for two years. He will head to the Georgia Institute of Technology for a three-year postdoctoral fellowship.
Every time he had doubts in his work, Gutierrez-Popoca found support and encouragement among classmates, staff, friends, and faculty, he said.
"Only in dialogue with others have I realized the full potential of my own voice. After all, those who ask the most difficult questions are the people who think you have something to say," he said. "For that, I am thankful for Brandeis professors — who are devoted to helping students but are not afraid to challenge them."
He called on fellow graduates to spread the same kind of support they found on campus in the world.
"By extending the networks of support we have found here, we will be contributing to society not only by the application of our knowledge but also by inspiring others to discover and use their talents," Gutiérrez-Popoca said.
Lisa Kranc '75, chair of the Board of Trustees, encouraged the graduates to stay connected.
"Please know that you will always have a home here at Brandeis, no matter what you are doing and no matter where you are in the world. Most of all, please stay in touch — not only with your fellow classmates, but also with faculty and staff," Kranc said. "They teach, research, and work here because they are passionate about helping young people like you to go on and do remarkable things. I am sure that, like me, they are eager to hear about where life takes you."
In all, 206 graduates received master's degrees from the Graduate School of Arts and Sciences, 219 from the Heller School for Social Policy and Management, 271 from Brandeis International Business School, and 114 from the Rabb School of Continuing Studies. A total of 62 received PhDs from the Graduate School of Arts and Sciences, 13 from the Heller School for Social Policy and Management, and two from Brandeis International Business School.