Brandeis Alumni, Family and Friends
Late-Life Inspiration: The Art of Harold Grinspoon, 92, Comes to Brandeis
July 30, 2021
Friend of Brandeis Harold Grinspoon is sharing his artistic vision with the campus community. 
Photo Credit: Mike Lovett

Photo Credit: Harold Grinspoon

Photo Credit: Mike Lovett
As they approach the campus center along the university's main walkway, people returning to Brandeis this fall will come upon a trio of tree segments, sepia-toned and arching toward each other like the figures in Matisse's "Dance." Installed in mid-July and titled "Twister," the piece is the work of Harold Grinspoon, a longtime friend of the university and sculptor based in Western Massachusetts. 
When he launched his art career at 84, Grinspoon had retired as founder of Aspen Square Management, a major real estate developer. Three decades ago he and his wife, Diane Troderman, founding chair of the board of advisors of the Hadassah Brandeis Institute, created the Harold Grinspoon Foundation, to create opportunities regionally and worldwide to connect with Judaism and the Jewish community. It is best known for its flagship program, PJ Library, which delivers more than 680,000 free Jewish books and music to children in 29 countries every month. (Grinspoon has attributed the inspiration for the program to another famed literacy advocate, Dolly Parton). Along with his wife, Grinspoon has supported initiatives across Brandeis that sustain its mission and values. He also founded the Harold Grinspoon Charitable Foundation, which provides grants and awards supporting education, farming and entrepreneurship in Western Massachusetts.
Fascination with Trees
Now 92, Grinspoon is a lifelong nature lover. Over the years as he hiked the backwoods or rafted wild rivers, he was captivated by trees in all forms, particularly the bend and reach of fallen branches, logs and charred tree stumps. But it was a downed cherry tree in his own backyard that stirred him to what he calls a "personal awakening" and a late-life vocation as a sculptor. Since then, Grinspoon has established himself as a creator of large, mostly tree-inspired pieces — most notably his "tree series" — one of them on loan to Brandeis. Completed in 2014, "Twister" was inspired by a tornado that churned through Longmeadow, Massachusetts, where Grinspoon makes his home.
"Something as simple as a large tree falling in my backyard shifted my whole perception of life, mortality, immortality, beauty and form," said Grinspoon, a cancer survivor. "For reasons I cannot fully explain, I did not want this downed tree removed from my yard. I wanted to transform it into a work of art. 'The Beauty of Nature,' a cherry tree, became my first sculpture, propelling me along an unstoppable path of creativity."
The resulting 25-foot-tall outdoor sculpture was the beginning of an increasingly elaborate enterprise that has led to the creation of over 100 sculptures, many installed in public spaces across Massachusetts and nationally. Grinspoon's "Open Arms" is on view on the front lawn of the Bulfinch building at Massachusetts General Hospital. Another piece was installed on the campus of Ohio's Kent State University in commemoration of the 50th anniversary of the fatal shootings of student anti-war protestors there.
Many Skills, Many Hands
Grinspoon's towering sculptures are the result of intensely collaborative efforts that marry his vision, reflected in his preliminary sketches, with the logistics of sourcing, transporting, transforming and preserving fallen trees, and more recently the integration of glass fishnet floats, stainless steel spheres or objects that capture his imagination in antique stores and flea markets. At least six people are involved in creating the sculptures, according to Madeline Calabrese, whose unofficial title is curator but whose responsibilities are all over the map as she works with Grinspoon to realize his vision. She's a graphic and watercolor artist who has worked with Grinspoon since 2011.
"Harold's "Twister" embodies a spirit of collaboration and reminds us that exciting things are made possible when we embrace new passions and dreams" said University President Ron Liebowitz. "I am pleased that our community and visitors will have the opportunity to pause and witness this impressive sculpture on campus."

Calabrese and Grinspoon's latest endeavor is the co-production of a coffee table book of the sculptures along with text about Grinspoon's late-life artistic awakening.
"Harold is a visionary and entrepreneur and must have a thousand ideas a day in all sorts of fields," said Calabrese. "He was a hiker and traveler and was always attracted to unique pieces of wood, such as a burned-out stump or a lightning-struck Juniper tree, and would commission artists to carve something, sometimes specifically directing other people to make what he saw in his head." 
As his projects grew more ambitious (he was importing Juniper trees from Colorado and driftwood from his beloved Salmon River in Idaho) Grinspoon established an indoor/outdoor studio space at an Agawam corporate property where his charitable foundations are based. The trees are allowed to dry for as long as eight months, said Calabrese. In the warmer months the studio comes alive with bark strippers, sanders, paint crews, even a "chainsaw expert," all of whom work at Grinspoon's direction, she said. Calabrese handles the acquisition of all materials, though when Grinspoon was still rafting the Salmon he towed a separate raft for found wood. 
From Visions to Sculptures
Grinspoon credits his creative partner Adam Suska with translating visions into permanent sculptures and guaranteeing their safe transportation and installation. An artist with 20 years of experience, "Adam is a genius in producing the final form of the sculptures we make," said Grinspoon. "There seems to be no technical problem that he can't solve, and I have thrown quite a few at him."
Trees are symbolic in many traditions and faiths, particularly Judaism. But Grinspoon, who strongly embraces his Jewish culture, has no driving need for people to "lend more meaning to his art than what's there," said Calabrese. "He wants people to see what they want to see, and appreciate how much he enjoyed making it, that it came out of him." If the works have an identifiable theme, it is their affirmation of life. "My work with materials that were once alive, but are being given a new life, and appreciating that beauty in a new way, has allowed me to grapple with themes of mortality and immortality," he said.
Sometimes attributed with "reinventing retirement," Grinspoon said that even though its creation came late in life, his art was gestating over many years. As he put it: "I've spent a lifetime evolving as a person, attempting to grow and expand my thinking and capacity for caring and generosity and being present in the moment. Art has ultimately been the gift that unlocked more understanding than I could have imagined." 
About the Author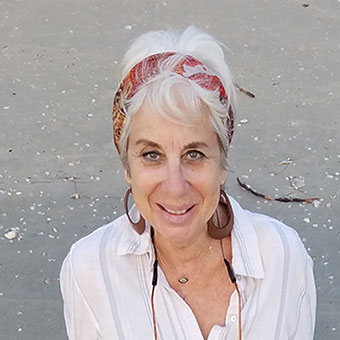 Former senior editor of Bostonia, Susan Seligson is an award-winning journalist who has written for The New York Times Magazine, The Atlantic, The Times of London, Redbook, Yankee, Salon, The Boston Globe, Radcliffe Magazine and many other publications. She is the author of several books including Going with the Grain (Simon & Schuster).