Brandeis Alumni, Family and Friends
Wish You Were Here! Snapshots and Stories from 60 Years of Study Abroad
March 2, 2021
This year marks 60 years of sending Brandeis students abroad for immersive and enriching experiences around the world while earning academic credit toward their degrees. More than 9,000 Brandeis students have studied abroad, in places from France to South Africa, Israel to Bhutan, Peru and beyond.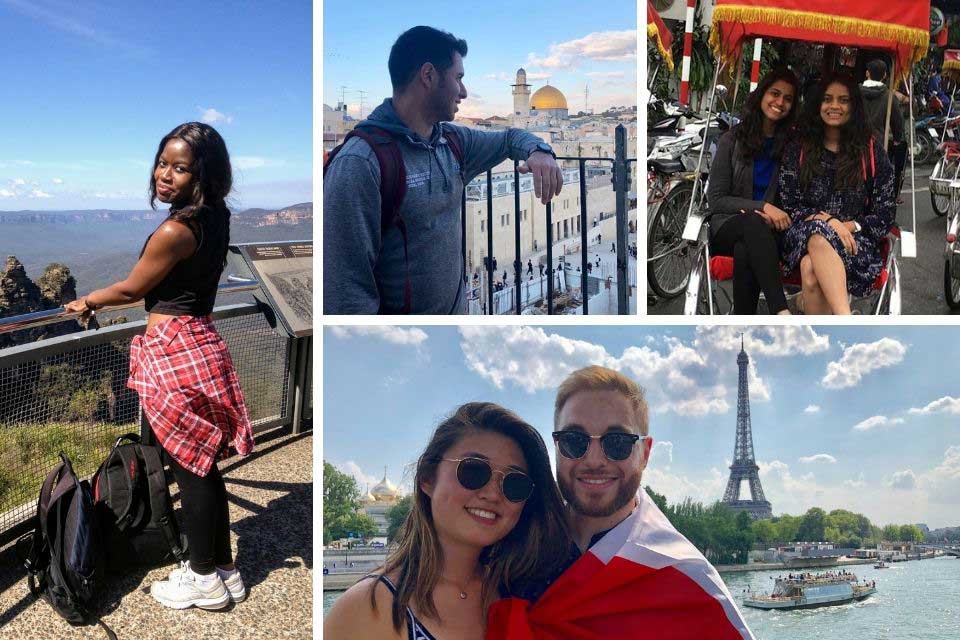 In their travels, students have studied at international universities, lived with host families, become proficient in languages, carried out research, made friendships and gained a love and appreciation for the world's cultures that have inspired them the rest of their lives. 
In celebration of 60 years of Study Abroad at Brandeis, and in honor of the memory of the late J. Scott Van Der Meid, who transformed the program as associate dean of Study Abroad, recollections and photos have been gathered from Brandeis alumni who shared the many ways Study Abroad changed their lives.
Here are some of their stories.
Study Abroad Travelogues 

Finding love at the Vatican 
Diane Gennaretti '74 made a romantic connection in Italy and they've been inseparable ever since. 

Chasing frogs in Ecuador
Harrison Goldspiel '13 discovered a passion for ecology and conservation in Ecuador which ultimately became his career. 

Discovering home in Jerusalem 
Rabbi Ronald Kronish '68, P'99 was inspired after his semester abroad to make his return to Israel a permanent stay.

Forging a career path in Paris


Mara Posner Metzger '88 pursued career interests and lasting friendships in Paris.

Learning "Singlish" in the Lion City 
Khushee Nanavati '19 was dazzled by the modern industriousness against a traditional Asian backdrop in Singapore. 

Achieving balance in Australia 
Linda Phiri '16 got lost her first night in Sydney, but later found some tennis inspiration. 

Celebrating Israeli culture
Steve Safran

'

94 established lifelong friendships in Israel and eventually decided to start a family there.

Browse more stories and photos shared by alumni in our 60 Years of Study Abroad album. 


 
Fast Facts about Brandeis Study Abroad
As much as 40 percent of the junior class traditionally studies abroad.
Brandeis approves some 200 programs in 60 different countries, open to all majors and minors.
In 2019-20,

Brandeis students studied in 68 cities in 42 countries.
The top 10 destination cities: London, Copenhagen, Sydney, Amsterdam, Edinburgh, Oxford, Granada, Amman, Barcelona, and tied, Dublin, Jerusalem and Melbourne.
The top 10 countries: the United Kingdom, Spain, Australia, Denmark, the Netherlands, Israel, New Zealand, France, and tied, Ireland, Japan and Jordan.