Brandeis Alumni, Family and Friends
Remembering Vic Samuels '63, Dedicated Brandeis Alumnus and Benefactor
June 30, 2020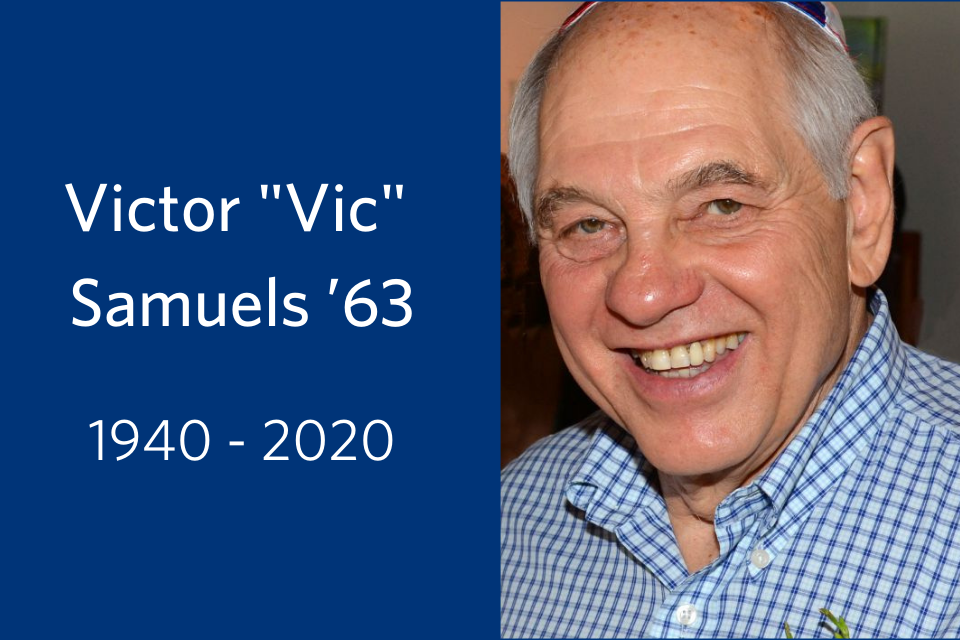 Victor "Vic" Samuels '63, a Houston, Texas business entrepreneur and civic leader who gave generously to scholarships at Brandeis, has passed away at age 79.
Mr. Samuels, described by his family as a "rare seventh-generation Jewish Texan, outspoken liberal, and proud American," joined with his wife, Barbara "Bobbi" Greenfield Samuels '63, in supporting financial aid at their alma mater, creating the Bobbi '63 and Vic '63 Samuels Endowed Scholarship and the Vivian and Irving Greenfield Endowed Scholarship at Brandeis.
Mr. Samuels chaired Brandeis' Board of Fellows and served on the university's Board of Trustees from 1988 to 1992.
"Vic Samuels embodied the Brandeis spirit in his commitment to creating a more just world, his innovative approach to business creation and mentoring, and his devotion to family and faith," said Brandeis President Ron Liebowitz. 
"His generosity has made it possible for new generations of students to have the opportunity of a Brandeis education, thus creating a living legacy for which his alma mater is profoundly grateful," he said.
Vic and Bobbi Samuels married one week after their graduation from Brandeis, where Mr. Samuels was senior class president and had loved the study of history, including a class taught by Eleanor Roosevelt.
"Vic came to Brandeis on scholarship, and his gratitude for the opportunity it afforded him never flagged, nor did his affection for the university," said Brandeis Trustee Stephen R. Reiner '61. "While he built hugely successful businesses, his family and his commitment to community service were always at the forefront of his attention. He was respected and admired by all who had the privilege of knowing him." 
Mr. Samuels entered the world of business in Houston, where over the course of a half-century he created and led four substantial businesses — Houston Terminal Warehouse, Leedo Manufacturing, Leedo Furniture, and Victory Packaging — that employed thousands. Described by his family as a "risk-taker willing to bet it all," he excelled as a business strategist and mentor.
But building companies was only part of Mr. Samuels' story. He often said he divided his time evenly between business, family, and community. "Repairing the world" was a cornerstone of his Judaism. He was quoted as saying: "We are what we commit ourselves to. We have a responsibility to make the world a better place." Mr. Samuels shared a commitment to progressive Judaism with his late brother, Rabbi Robert Samuels '54, who preceded him at Brandeis, and was a leader in the Reform Movement in the United States and Israel.
In the 1960s, Mr. Samuels was a leader in Citizens for Good Schools, a diverse group that helped to peacefully and thoughtfully desegregate Houston schools. Over the years he actively supported numerous charitable causes in Houston, including Houston Achievement Place, the Jewish Community Center, HITS Theatre, the Woods Project, and the School of Social Work at the University of Houston. He and wife Bobbi created the Samuels Family Foundation in 2015.
Mr. Samuels coached Little League teams, attended theater performances, and always made it home for family dinners. He was a fierce competitor in pick-up basketball and touch football games with children and grandchildren at the family reunions that he and his wife of 57 years enjoyed hosting. 
"Vic was a larger-than-life character," his family said in a remembrance. "He pushed the boundaries of authority, loved risk-taking, and filled every room that he entered with his countless stories, humor, and thought-provoking conversation. He loved to prod those around them to dig deeper. And he loved to win."
Michael Kalafatas '65, former director of admissions at Brandeis, was a longtime friend. "When Brandeis launched the Alumni Admissions Council in the 1970s, Vic Samuels and his wife, Bobbi, enthusiastically stepped forward to establish a chapter in Houston," Kalafatas said. 
"Whether representing Brandeis at a college fair or conducting an interview with an applicant, Vic was as at ease in a deep intellectual conversation as he'd been with faculty favorites, Ray Ginger, Jerry Cohen, and Eleanor Roosevelt; or himself a top Houston schoolboy athlete, talking sports; or still again, a successful businessman, engaging a student on topics across business and economics. 
"Vic Samuels was truly a man for all seasons and always a scrapper for the public good; and for certain, he dearly loved his College on a Hill with a Castle," Kalafatas said.
In addition to wife Bobbi, Mr. Samuels' survivors include three sons and seven grandchildren.