Brandeis Alumni, Family and Friends
Julieanna Richardson '76, H'16, Receives Million-Dollar Grant to Preserve Black Women's Stories
March 3, 2020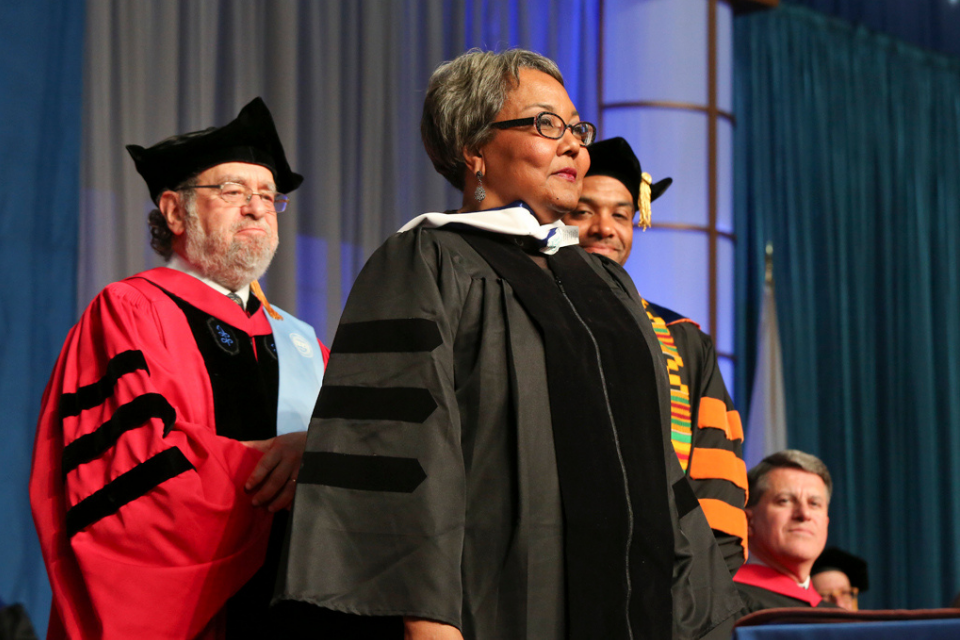 She's already helped save thousands of black Americans' stories that might otherwise have been lost.
Now, thanks to a $1-million grant, Julieanna Richardson '76, H'16, and her oral history project, HistoryMakers, the nation's largest African-American video oral history archive, will significantly expand its recordings of pioneering black women.
The HistoryMakers launched the WomanMakers initiative in January with the million-dollar gift from Ursula Burns, former head of Xerox.
The project focusing on black women will bolster the oral archive founded by Richardson in 1999 that already has recorded the stories of more than 3,300 African Americans.
"We have so much potential to leave a historical record that will not have any chance to be erased -- that is what is exceedingly important to me," Richardson said about the initiative.
Former Xerox CEO Burns presented Richardson with the monetary gift at a New York City luncheon Jan. 31 marking the project's kickoff.
An advisory committee that will help determine the 180 women whose stories will be recorded includes Anita Hill, University Professor of Social Policy, Law, and Women's, Gender and Sexuality Studies at Brandeis.
In the 20 years since its official launch, the HistoryMakers has recorded the stories of black pioneers in various fields, including Hank Aaron, Maya Angelou, Colin Powell, Barack and Michelle Obama, and more than 200 of the nation's top African American scientists.
Housed permanently in the Library of Congress, the HistoryMakers archive as of 2016 encompassed more than 9,000 hours of interviews.
But even as an organization founded and led by a black woman, Richardson told the Associated Press, the archive contains far more men's stories -- about 800 more -- than women's.
"When you look at different periods of time, even the modern-day civil rights movement, often the story of women's roles is not well-recorded or told," she said.
"African-American history and culture is at a critical crossroads," Richardson said. "We are at a risk of losing 20th-century documentation within 10- to 15 years."
Burns' million-dollar gift will underwrite interviews with 180 leading African American women in business, medicine, education, arts and entertainment, and other fields.
Richardson's interest in oral history flowered during her undergraduate years at Brandeis, where she double-majored in theater arts and American studies.
For an independent research project as a sophomore, Richardson went to New York City to interview "Gone With the Wind" actress Butterfly McQueen, Broadway lyricist Honey Coles and other icons of the Harlem Renaissance. She took her tape recorder with her.
"I was in my element," she recalled. "I had found myself."
The Harvard Law School graduate gave the Commencement address at Brandeis in 2016 and was awarded an honorary doctorate of humane letters.
Related article: Julieanna Richardson '76 Building Something Special With 'The HistoryMakers'