Brandeis Alumni, Family and Friends
Standing in Solidarity and Taking Action for Racial Justice
June 10, 2020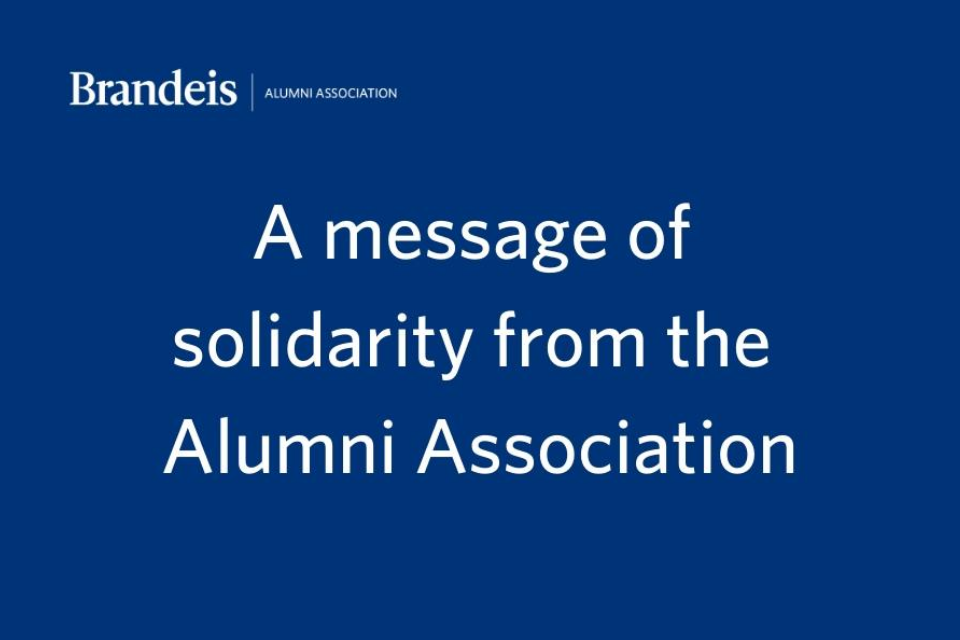 The Brandeis University Alumni Association mourns the cruel and senseless killings of George Floyd, Ahmaud Arbery, Breonna Taylor, and all others who have been the victims of anti-Black racism and violence in the U.S.
We stand in solidarity with the Black community in the fight against systemic racism and in the pursuit of social and racial justice. The fight for justice is deeply embedded in Brandeis' history, as President Liebowitz reinforced in his latest message.

Last week, more than 700 members of the Brandeis community gathered virtually to attend "Coming Together Against Systemic Racism" and to engage with one another around these issues. To our Black students, alumni, faculty and staff who bravely spoke up about the racialized interactions they've experienced on the Brandeis campus and beyond: We hear you and we commit to helping dismantle anti-Blackness at Brandeis.
The resounding takeaway from the call is a need for action more than words. As an Alumni Association more than 60,000 members strong, imagine the collective impact we could have if each one of us commits to taking action.
In keeping with Brandeis' founding values of social justice and inclusivity, we need to advance racial justice through meaningful steps, both large and small. As Alumni Association board members, we will:
Provide ongoing training sessions about systemic racism, unconscious bias and prejudice, led by internal and external experts, for all Alumni Association board members and Alumni Relations staff. The Brandeis Office of Diversity, Equity & Inclusion has committed to leading the first session.
Reevaluate board policies, programs and initiatives to ensure racial equity. For example, we will examine our board member nomination process to identify opportunities to increase racially and ethnically diverse applicants.
Support student, faculty and staff-led initiatives to reduce and eliminate campus policing practices and community behaviors that negatively impact Black students.
As individuals, we invite our fellow alumni to join us in participating in these immediate ways:
Whether it is through steps like these or the many other efforts by individual and organizational change makers, we must act. Our participation matters. Black lives matter.
In solidarity,
The Brandeis University Alumni Association Board of Directors
Daniel Acheampong '11, BOLD National Co-Chair
Shota Adamia '15
Pamela K. Anderson '79
Elizabeth Fields Asen '13
Rebecca Bachman '13, BOLD National Co-Chair
Amy Bard '79
Samantha Barrett '20
Jessica Bergman '91, FOBA President
Denise Silber Brooks '84, P'16
Lewis Brooks '80, P'16, President
Gabi Burkholz '21
Christine Chilingerian '07, Co-President, Alumni Club of Philadelphia and Southern NJ
Joel Christensen '01, Faculty Representative
Amy L. Cohen '85, Vice President and Co-Chair, Brandeis Women's Network
Susan Deutsch '62
Yaron Dori '92
Daniela Egan '04, Co-President, Alumni Club of Greater Boston
Jim Felton '85
Jennifer Gibson, IBS MBA'12
Serena Gober '07, President, Alumni Club of South Florida
Alex Goldstein '06
Alexander P. Heckler '98
Liane Hypolite '10, Co-Chair, Alumni of Color Network
Dmitry Isenberg '97, President, Alumni Club of Connecticut
Francyne Davis Jacobs '95, President, Alumni Club of Houston
Kai Keller '07
Fred Kessler '75, P'10
Carolyn Gray Kimberlin '99
Leslie Effron Levin '94, President, Alumni Club of Westchester County, New York and Southern Connecticut
Risa Levine '83, Vice President
Napoleon Lherisson '11, Co-Chair, Alumni of Color Network
Amy Merrill '69, Co-Chair, Brandeis Arts Network
David Morris '96, Chair, Brandeis Lawyers Network
Jose Perez '75, Vice President
Brandon Pick '08, Vice President, FOBA
Talee Zur Potter '97, Co-Chair, Brandeis Women's Network
Noah Prawer '01
Steven W. Rabitz '92
Janna Rosenberg '02
Len Rosenberg '89, President, Alumni Club of Northern California
Alyssa Sanders '89
Jonathan Sclarsic '03
Antony Stern '08, IBS MA'09
Mark Surchin '78, Immediate Past President
Vipin Suri, PhD'01
Hanna Switlekowski '13, Co-President, Alumni Club of Greater Boston
Steve Wander '97, President, Alumni Club of Chicago
Shen Wang '20
Brett Ward '97, President, Alumni Club of New York City
Ora Wexler '04, Co-President, Alumni Club of Toronto
Shelly Wolf '64
Andrew Zeitlin '90, P'22
Michael Zinder '75