Brandeis Alumni, Family and Friends
Remembering Disability Rights Champion Deidre Davis Butler '77
September 25, 2020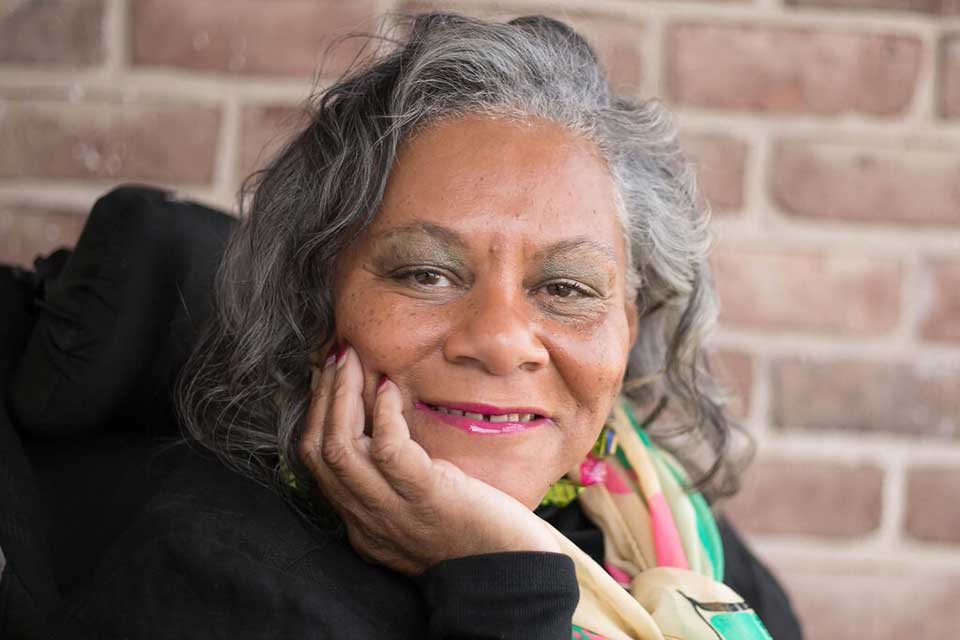 Photo Credit: Dennetta Bradford
More than 40 of her friends plan to gather virtually to celebrate the life of Deidre "Dee" Davis Butler '77, a groundbreaking disability-rights advocate who passed away Aug. 7 in Rogers, Arkansas, at age 64.
Mrs. Butler, who used a wheelchair as a result of spinal cord damage, championed the rights of the disabled, and as an attorney, helped draft the Americans With Disabilities Act. She was dedicated to making sure that minorities had access to important disability programs. 
"Dee was a real fighter," said attorney Lynn Whitfield '77, an Election Protection Fellow with the Election Protection through Transformative Justice Coalition and the National Bar Association. 
"She was the type of person who was not going to let anything or body stop her from achieving her goals," Whitfield said.  
The virtual remembrance event on Sept. 26 also will serve as a fundraiser for an endowed chair in the Department of African and African American Studies at Brandeis.
Karen Stroud '79 has pledged a gift to the AAAS fund as a memorial to her friend. 
"Simply put, Dee was a force," she said. "It was never more evident than when she visited me one summer day before she started her legal studies at Howard University. In D.C., we lived in a third-floor walk-up. Dee came to visit and made her way up those many stairs. I'll never, ever forget her grit and determination climbing those three flights.
"Today, I reflect on how prophetic that episode was, as she would become a pivotal player in ADA becoming a law," Stroud said. "She made a powerful impression on me that day with her actions, and a profound impact on the world with her life's work: making things better for the differently-abled community. God bless her!"
Called to Service 
A spinal cord tumor caused Mrs. Butler to be paralyzed as a child, and after extensive rehabilitation, she was able to walk for the remainder of her childhood and through college at Brandeis, the New York Times reported. But during her second year of law school at Howard University, several vertebrae collapsed, and she used a wheelchair thereafter.
After graduating from Howard, Mrs. Butler worked on disability rights, helping to draft the landmark Americans With Disabilities Act enacted in 1990. 
"One of the things interesting to me is that although her father, Hilton Davis, was an attorney, the practice of law was not Dee's first choice for a profession," said Whitfield. "But just like me, we both found ourselves doing the exact thing that our friend Gail Thompson Lake '77's father spent a lot of time talking to us about: being an attorney."  
During the Clinton Administration, beginning in the mid-1990s, Mrs. Butler was a deputy assistant secretary at the State Department representing the Equal Employment Opportunity Commission and traveled the world to make sure American embassies were meeting civil rights and disability rights guidelines, the New York Times reported.
Tirelessly Advocating for Others – With a Smile 
Brandeis friend Margaret Hanson-Muse '78, a US foreign service officer, recalled meeting Deidre Davis – "always Dee Dee to me because of her smile" – early on at college. "She was a good storyteller and I liked to listen," she said.
"Dee Dee traveled with her job at the State Department and one day she appeared at the embassy where I was working in the commercial section. She was delivering remarks as the principal speaker for an outreach program to the local community. It was either New Delhi, India, or San Jose, Costa Rica. She was in a wheelchair but very mobile as always. Same wonderful smile and same sense of humor. 
"Dee Dee believed in speaking truth to power and standing up, literally, to be counted." - Margaret Hanson-Muse '78
"She made a difference for many people. When I had to build two offices for the Commercial Service during my second tour in India in 2011-2014, I thought of Dee Dee. Why? Because we made sure they were ADA compliant!  
"Dee Dee, thank you for adjusting the height and depth of our view so that others may participate," she said.
Mrs. Butler moved to Arkansas in 2005 to work for Walmart Inc. as the company's first director of ADA services, helping to ensure all Walmart retail, transportation, and distribution facilities complied with the ADA. On retiring from Walmart in 2012, she founded DYSability Dynamics, a disability diversity consulting company.
In 2015 she married Juan K. Butler in a ceremony at the Howard University School of Law Chapel in Washington, D.C. 
Over the course of a professional career spanning four decades, Mrs. Butler worked tirelessly to collapse the divide between disability rights and human rights. She served on the boards of directors for a number of organizations, including the National Council on Independent Living, the Howard University Center on Minorities with Disabilities, and the National Black Disability Coalition. In July 2020, she received the National Council on Independent Living's Lifetime Achievement Award.
She leaves her husband, two brothers, a brother-in-law, six nieces and many extended family members and friends.