Brandeis Alumni, Family and Friends
Annual Luncheon Celebrates the Importance of Supporting Students
April 30, 2019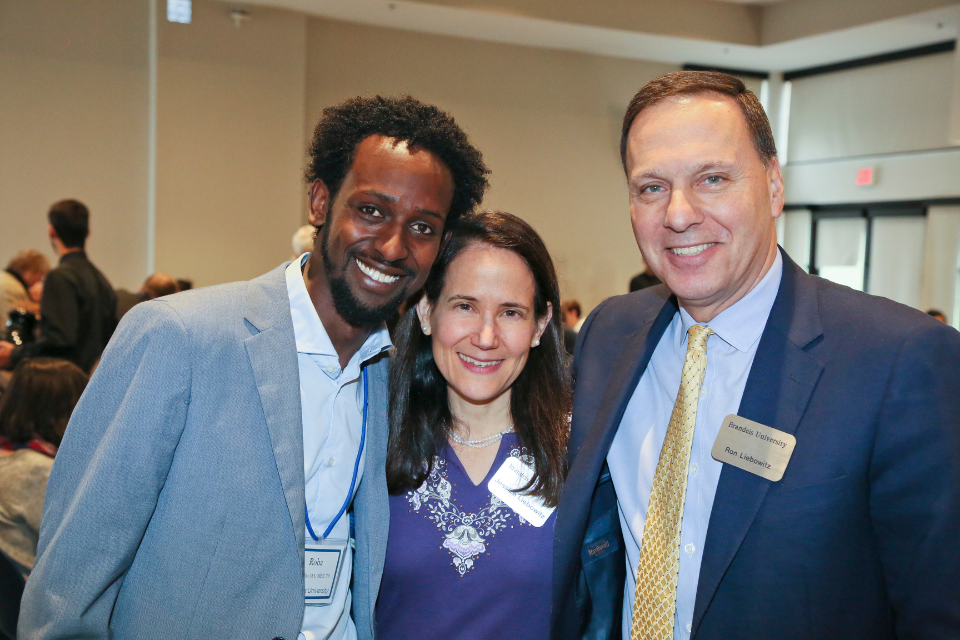 Photo Credit: Mike Lovett
Born into a family of shepherds in Ethiopia, Roba Bulga Jilo, MA/MBA'19, found his way to Brandeis through a chance encounter with an alumna in Rome more than 10 years ago.
Jilo and Elinor Gollay, MSW'71, PhD'77, were touring the Vatican Museum at the same time in 2008. At the end of the tour, Gollay and her husband Rex struck up a conversation with Jilo and then invited him out for lunch. Their friendship continued after Jilo returned to Ethiopia, where he worked as an advocate for farmers and indigenous people. When Jilo decided to return to school, he asked Gollay for advice. She suggested that he apply to her alma mater, the Heller School for Social Policy and Management.
Jilo, soon to graduate from Heller, shared his story with hundreds of alumni, friends and fellow students as one of four featured student speakers at Brandeis' annual scholarship and fellowship luncheon, which recognizes and celebrates the impact that private support can have on the lives of students. The luncheon, held April 30, gave scholars the opportunity to spend time with the supporters who helped make their Brandeis educations possible.
In 2015, Jilo applied to the Sustainable International Development (SID) program at the Heller School. "I found out that I was accepted to the program, but I thought I would be unable to attend because of limited financial resources," Jilo said. "Fortunately, because of the financial aid I was offered, including the Elinor Gollay Scholarship, I was able to enroll in the SID program."
Since Jilo arrived at Brandeis, he has enrolled in Heller's Social Impact MBA program and participated in the Heller Startup Challenge, an annual event during which students have 48 hours to assemble a team, write a business plan and pitch their idea to a panel of judges. Three Heller students joined Jilo's team, called Nomad Dairy, which was focused on building up a camel milk cooperative in Ethiopia that he had launched in 2012. His team won and used the award money to modify the cooperative's truck to include refrigeration.
Jilo plans to return to Ethiopia after graduating. "I am well prepared in policy to advocate, shape and lobby for people who are marginalized," he said at the luncheon. "You have not only invested in one person, but in a community that I am just one of. Your support reaches and changes the lives of thousands of people."
Hulda Flores '21, another featured student speaker at the event, came to Brandeis from Texas with the help of the Curtis H. '73 and Jylla Moore Tearte Endowed Scholarship. A sophomore double majoring in sociology and women's, gender and sexuality studies, Flores is the first in her family to attend college. Brandeis has become her "home away from home," she said. "The interdisciplinary focus of Brandeis has allowed me to take courses that build upon one another and intellectually challenge me. My passion for social justice and education fits perfectly at Brandeis because of the diverse and inclusive environment."
This fall, Flores will study abroad in Chile, marking her first time traveling outside of the country. She will pursue independent research on cultural identity, community development and social justice.
"I hope in the future to promote education in marginalized communities that are under-resourced and help students get the same academic access I've been granted," Flores said. She credits the Teartes with helping make her transition to Brandeis much smoother. "They have given me guidance to navigate this academic space that is still so foreign to me and have been so caring. Not only have they funded my education, they also have given me this opportunity to pursue my academic passions and lessen the financial burden on my family."
Curtis Tearte '73, a member of the Brandeis Board of Trustees, CEO of Tearte Associates Inc. and chairman of the Tearte Family Foundation, said his passion for supporting scholarships—he and his wife have awarded 148 so far—stems from the opportunities he was given as a young man.
"I grew up in a very poor family. I was the first to attend and graduate college from my immediate family," said Tearte, who was raised in Philadelphia and now lives in West Palm Beach after a long career at IBM. "Brandeis changed the arc of my life. I wanted to give the opportunity to others like myself who wouldn't otherwise have the opportunity to further their education. I truly believe in reaching back and pulling someone forward."
The Teartes support two scholarship students a year. They meet with them at least once a year, often more. "We want to be actively involved with the students. We want to be able to put a face to a name, hear their challenges and serve as mentor, coach and guide," Tearte said. "It gives us a sense of who they are and the challenges they are navigating. But most of all, we see how they grow as individuals and become the next generation of leaders."
President Ron Liebowitz, speaking to those gathered, said he looks forward to the luncheon every year. "The committed donors and friends who are here today are the reason that Brandeis can provide an outstanding education for all of our students," he said. "Your generosity honors this university's founding principles of access, inclusivity and tolerance. Together, we will continue to further Brandeis' mission to make the world a better place through rigorous scholarship, a commitment to truth and openness, and a shared sense of purpose."
Students Joshua Moll '19 and Ph.D. candidate Kelley Lynch, MA'17, also spoke at the luncheon.