Brandeis Alumni, Family and Friends
New Scholarship Honors Two Loved Ones — and Their Heroes
August 13, 2019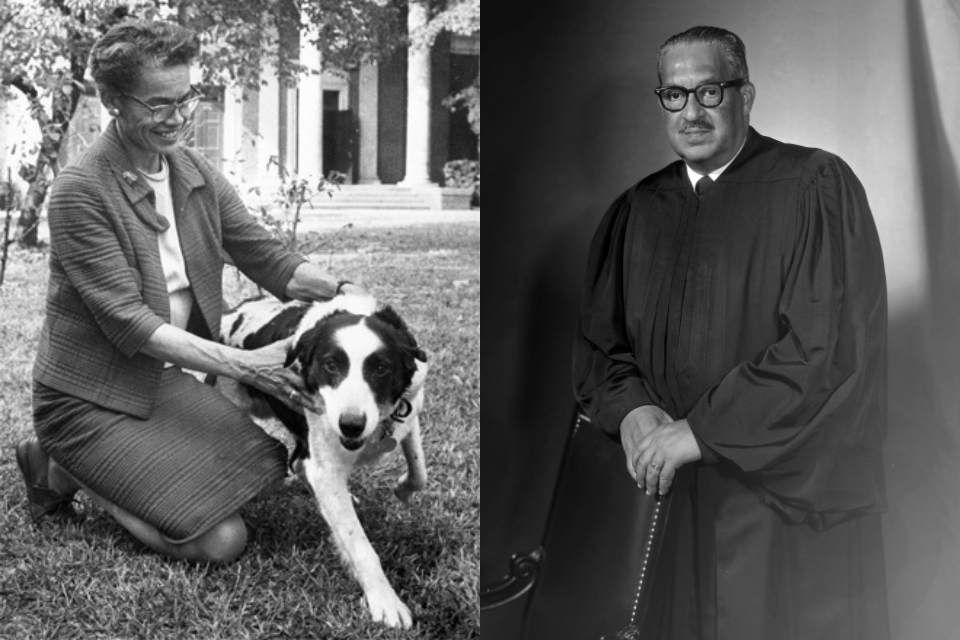 Evan Stark '63 has created a scholarship to support Brandeis students interested in pursuing a career in civil rights law, public service, or social and gender justice. The scholarship honors Stark's mother, Alice Fox Stark, and his Brandeis roommate, Michael Koskoff, but isn't named after them. The Murray-Marshall Endowed Scholarship is named for their respective personal heroes: Pauli Murray, a civil rights activist, and Thurgood Marshall, the first African-American justice on the Supreme Court.
Stark spent his early years in a small apartment in the Bronx, where his politically active mother frequently invited fellow socialists to gather. "They would have these endless late-night discussions," recalls Stark, who would overhear the charged conversations about racial justice, the women's movement and other topics from the apartment's only other full room, a bedroom he shared with his sister.
One of the guests to the Bronx apartment was Pauli Murray, a civil rights activist who also became a lawyer, women's rights leader, Episcopal priest, author, and, for five years, a professor at Brandeis. Stark's mother met Murray and many of her other guests through her boss, labor leader A. Philip Randolph, the co-organizer of the 1963 March on Washington.
Murray and her accomplishments influenced and inspired Stark's mother — and ultimately Stark himself, although his time at Brandeis did not overlap with Murray's.
Koskoff also had a large influence on Stark. They would spend weekends together at a friend's cabin in Stratford, Connecticut, reading poetry and lectures on Marxism and talking about social justice issues.
Koskoff later became a trial lawyer and president of the American Trial Lawyers Association and represented the Black Panthers and families affected by the Sandy Hook school shooting. He deeply admired Thurgood Marshall, and co-wrote the screenplay for the Academy Award-nominated movie "Marshall" with his son, Jacob. Koskoff died in April.
"I wanted to honor the two people who have done the most to influence my own career in social justice," said Stark, whose work on women's justice issues also has been groundbreaking.
After Brandeis, Stark earned his master's in social work from Fordham University and his PhD in sociology from Binghamton University. With his wife, Dr. Anne Flitcraft, he founded one of the nation's first battered women's shelters. He has spent decades advocating for domestic violence victims as a sociologist, forensic social worker, researcher and author. Earlier in his career, he and his wife co-directed the Yale Trauma Studies, where they conducted groundbreaking research on the significance of abuse on women's health. Now a professor emeritus of Rutgers University, Stark is the author of the award-winning 2007 book, Coercive Control, which is credited with influencing the enactment of new offenses in England, Scotland, the Irish Republic and elsewhere that treat the abuse of women as a violation of basic human rights and liberties.
Stark served as the lead expert witness in more than 100 trials, including the landmark New York lawsuit, Nicholson v. Williams, in which the Federal Appellate Court found it was unconstitutional for New York City to remove children of domestic abuse victims from their mothers solely because of the abuse. Most recently, his testimony before the Court of Appeal in London on the new evidence of coercive control led to the release of Sally Challen, who had been convicted of killing her husband.
"With the wind of the civil rights and women's movements at its back, I believe law can do wonders to enhance liberty and justice for all," Stark said.
He said that Brandeis was a "social justice hotbed" when he attended in the early 1960s and hopes that the scholarship will encourage the type of activism common during his time on campus.
In creating the scholarship, Stark also wanted the newest generation of students to know: "People committed to real change can make a difference." He says, "It sends a signal that there are those of us who are willing to encourage and support them to make the tide of history our own."
Donations can be made to the Murray-Marshall Endowed Scholarship at Brandeis University, c/o Brandeis University, 415 South Street, MS126, Waltham, MA 02453 or online at giving.brandeis.edu/makeagift (choose "Other" for the gift designation and type in "Murray-Marshall Endowed Scholarship"). Contact Lisa Fleischman at lfleisch@brandeis.edu or 781-736-4062 for more information.