Brandeis Alumni, Family and Friends
Fake News, Facebook and the Free Press
June 5, 2019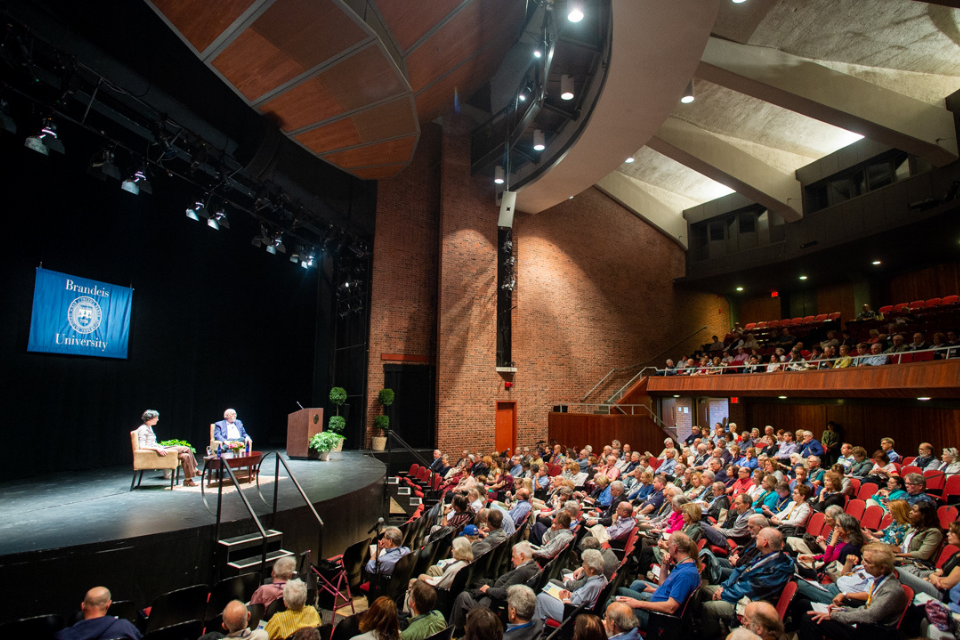 By Matt Parillo
Journalist Walt Mossberg '69 explored the intersection of truth and fiction in digital media and former CNN political analyst Bill Schneider '66 provided his take on the current domestic political landscape in two thought-provoking sessions at Brandeis University's Alumni College 2019.
Mossberg, the former personal technology columnist at the Wall Street Journal, addressed the rise of fake news and put forth a strategy for addressing its increasingly toxic impact on the national dialogue.
He suggested the origins of fake news lie with many who are seeking multiple goals, especially today's political leaders. "One [goal] is political advantage," he said. "If you change facts, you can justify whatever position you want."
Putting the blame on the shoulders of social media for spreading fake news, Mossberg aimed his sights on the world's leading social network as a primary culprit. "One has to deal with the supply of fake news. That involves keeping the pressure on places like Facebook," he argued. "Facebook has been absolutely poisonous to our society. I have quit Facebook and all its properties."
Mossberg called on regulatory solutions to address fake news, including the establishment of a new agency dedicated to regulating digital media. "I think we need regulation. We are the only developed country in the world that doesn't have any laws that actually grow out of the internet," he said. Mossberg acknowledged that at the outset, the stakes are high. "I don't think democracy works unless you have free speech and free press; they have an integral role."
Mossberg dedicates his time to combating fake news by addressing the "demand" side of the equation. He supports the News Literacy Project, a nonprofit organization that developed "a digital curriculum to teach how to separate fact from fiction."
In a talk titled "Standoff: How America Became Ungovernable," Schneider sounded an alarm in his evaluation of domestic political affairs. He likened it to a transition: "In American politics, we've gone from 'Camelot' to 'Game of Thrones.'"
Schneider maintained that the government "only works when there is a crisis, where there is an overwhelming sense of urgency that breaks through…and it lubricates the system." He referenced government responses to crises such as September 11, the civil rights movement and the financial crisis of 2008. "Under the right conditions, various things get done with amazing speed and efficiency," he said. Absent a crisis, one can expect more gridlock in Washington. "I am afraid that what is lost here in politics right now is hope and inspiration."
Mossberg's and Schneider's remarks were a part of a larger Media Reunion and a celebration of the 70th year of the founding of the campus newspaper The Justice during Brandeis Alumni Weekend.