Brandeis Alumni, Family and Friends
Beauty in the Struggle: Alumni Discuss Justice System Reform
February 7, 2019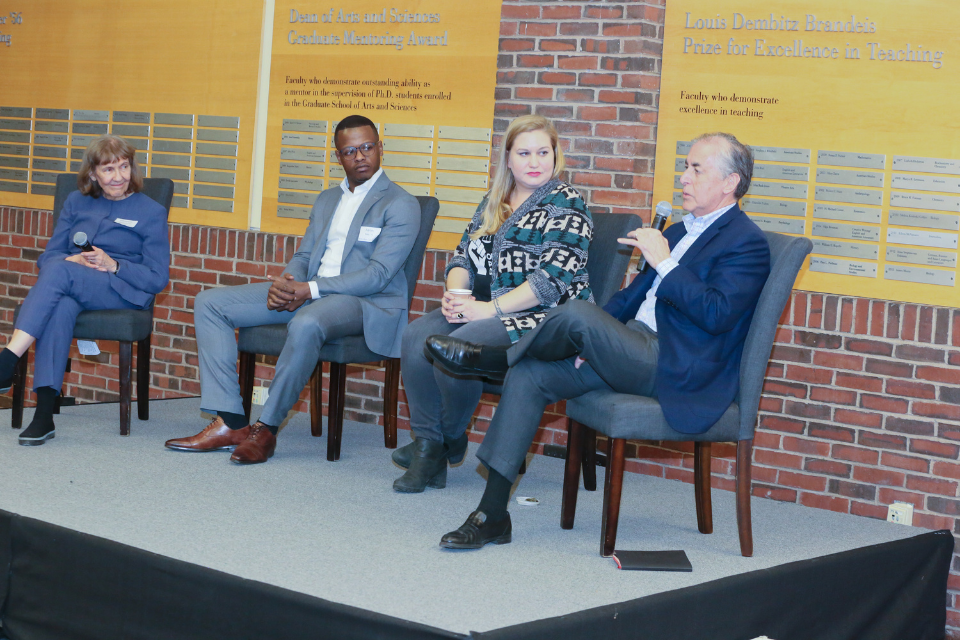 By Brian Klotz
Brandeis University's annual 'deis IMPACT! examines social justice through myriad lenses. Perhaps no event in this year's festival more clearly evoked the spirit of the university's namesake than one of the featured "Pillar Programs," an alumni panel discussion entitled "Justice for All: The Ongoing Fight for Reform of the Justice System and Prisoner Rights." Attended by more than 60 students, alumni and faculty members, the panel was moderated by Rosalind Kabrehl, a lecturer in Brandeis' Legal Studies department. It featured four alumni who apply social justice to the legal field through their work on prisoner rights, wrongful convictions and the right to legal representation.
Elizabeth Alexander '67 spent most of her storied career fighting to improve prisoners' conditions of confinement through the National Prison Project of the American Civil Liberties Union Foundation. She has argued three cases in the United States Supreme Court, including Farmer v. Brennan, which established the current constitutional standard for violations of the Eighth Amendment in cases involving conditions of confinement. Early in her career, while supervising law students at the University of Wisconsin, Alexander witnessed deplorable prison conditions and subsequently devoted herself to securing more humane treatment for the incarcerated.
Elizabeth's classmate Howard Scher '67 is a partner at Buchanan, Ingersoll & Rooney in Philadelphia, and has worked extensively with the Pennsylvania Innocence Project, on which he is president of the Board of Directors. Scher noted that he was at his alma mater during what he believed to be "the greatest time of Brandeis University," explaining that his tenure on campus spanned a period of social and cultural upheaval that included the assassination of President John F. Kennedy, the civil rights movement, and the Vietnam War and its associated anti-war movement. "If you don't have a sense of social justice after living through that four-year period, give it up," Scher quipped.
Joining Alexander and Scher on the panel were two Brandeisians who had worked at the Schuster Institute for Investigative Journalism. Lindsay Markel '08, who served as assistant director of the Institute, is now a staff attorney with the Orleans Public Defenders in New Orleans, Louisiana. "I didn't really fully understand what a lawyer could do for someone until I was working at the Schuster institute on wrongful convictions," she said.
Aaron Bray '13 was awarded the inaugural Harvard Black Legacy Award from Harvard Law School, and now works as a criminal defense attorney for the Roxbury Defenders. Bray recently accepted a teaching fellowship at Georgetown University Law Center, where he will be pursuing a L.L.M. degree in advocacy. Describing himself as an introvert, he credits Brandeis sociology professor Gordie Fellman with pushing him out of his comfort zone by recruiting him to his teaching assistant during Bray's senior year. "The reason I have such confidence and I know I'm going to be passionate about that work is because Gordie planted that seed back in 2012," he said.
For Bray, the decision to enter the legal field came from his own personal experience. "I'm from a pretty tough neighborhood in Boston," he said. "I grew up exposed to guns, drugs, violence. Growing up, I thought my destiny was going to prison, and by the time I was 19 I was pretty close to fulfilling that prophecy." Witnessing the murder of someone he knew inspired him to change his direction. "If I didn't make a decision, I was going to end up a statistic."
Bray earned his degree from Brandeis while gaining experience at the Schuster Institute. "Things started to crystallize that what I wanted to do in the criminal justice system was become a defender to help folks stay out of that life, and stand up for those who don't have a voice."
The panel discussed some of the causes of what they viewed as a "broken" system, and they quickly made note of a sad reality. "One of the biggest tragedies of the criminal justice system is how overworked and under-resourced the public defenders are," said Bray.
Markel concurred. "When I was starting, it was not strange for me to have 400 cases," she said, adding that some of her colleagues had two or three thousand cases a year. "When you have a caseload like that, it builds in a conflict of interest. You have no other option but to triage, and that is horrific. As someone who went to Brandeis, it kills me every single day. If you devote all the time you should to one case, you're not doing it to another."
Scher bemoaned a system that rewards quantity of convictions, rather than justice. "We over-prosecute and over-incarcerate," he said. "There's now a whole industry that makes money by incarcerating people." Scher referenced the infamous "cash for kids" scandal in Pennsylvania, in which judges received kickbacks for delivering overly harsh sentences to juveniles to increase occupancy at for-profit detention centers.
Speaking about the causes of the United States having the highest incarceration rate in the world, Alexander noted the issue of race, relating the history of mass incarceration after the Civil War. "It became a system of social control imposed on African-Americans in this country," she said.
Markel echoed her sentiment, describing the disturbing visual she would see while driving into the Louisiana State Penitentiary, which is also known as "Angola" after the plantation that used to occupy the land. "There are literally men on horseback with guns, and men working in fields," she said. "That used to be a slave plantation, and it still is."
Throughout the two-hour presentation, the panel touched on numerous topics related to work in the field and took questions from audience members, many of whom were current Brandeis students interested in entering the legal profession. While much of the discussion pertained to frustrations with the legal system, there was hope.
Scher explained that Philadelphia had recently acquired a district attorney who established a Conviction Integrity Unit. Markel related a personal story: on the day of her law school graduation, she received a phone call informing her that Angel Echavarría, whose wrongful conviction case Markel had worked on while at the Schuster Institute, was being released from prison. She flew back to Boston to be there when he got out. "We brought him to Brandeis, and he got to see this place he only heard about," Markel explained. "That was probably my favorite Brandeis moment."
The panelists acknowledged that working in the field can at times feel like an insurmountable climb, but one that's worth the effort. "We are all passionate about what we do and we get great gratification from it," said Scher.
Bray noted the added pressure Brandeis alumni can feel coming from a school with such a focus on social justice issues, but he had advice for current students. "Rid yourself of the complex that you have to save the world," he said. "That's not on you, that's not on any of us individually. Once you get past that, you find what you're passionate about and what you're good at and you go to work."
The panel concluded with a message from Bray about what drives him and others in the field to continue their work despite being perennial underdogs fighting against a larger system.
"There's a lot of talented, brilliant, hardworking, ambitious people who are chipping away at this system piece by piece," he said. "You've never heard of them, they're not famous, they're not on your Instagram feed every night – they're just grinding it out every single day. They're never going to get any glory, and you might not either, but there's real beauty in the struggle of just attacking it anyway."