Brandeis Alumni, Family and Friends
Stoll Family Chair Bestowed on Scholar of Jewish Intellectual History
November 25, 2019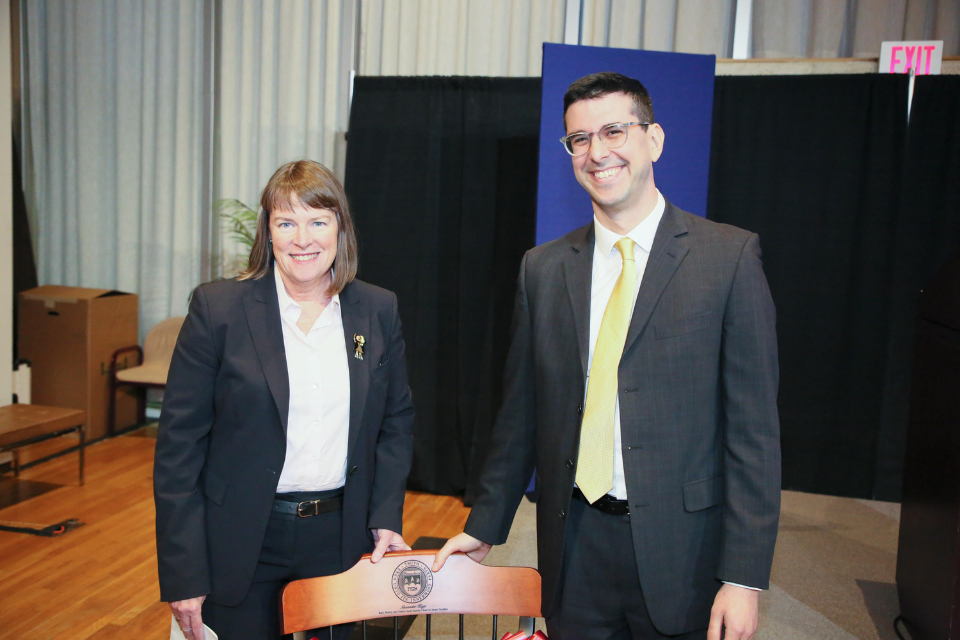 Photo Credit: Mike Lovett
Alexander Kaye delivered the Stoll Family Chair Lecture on Nov. 12 in his inaugural address as Karl, Harry and Helen Stoll Assistant Professor of Israel Studies at Brandeis. His presentation was titled, "Galut: Exile and Existence in Modernity."
Kaye's lecture in the Rapaporte Treasure Hall in Goldfarb Library was co-sponsored by the Brandeis University Provost's Office, Department of Near Eastern and Judaic Studies, and Schusterman Center for Israel Studies.
In a ceremony following, Provost Lisa Lynch formally presented Kaye with the Karl, Harry and Helen Stoll Family Chair in Israel Studies. Kaye succeeds founding Schusterman Center Director Ilan Troen '63 in the endowed chair.
Only the second chair of its type in the United States, the Stoll Family Chair in Israel Studies was created in 2001 in response to 9/11 and continued violence in the Middle East, with the aim of promoting inquiry in the cause of peace.
Kaye expressed his thanks to the Stoll family. "We here are all celebrating the fruit of the generous and visionary gift they made," he said. 
Kaye earned his BA and MPhil degrees from the University of Cambridge and his PhD from Columbia University. He has taught previously at Princeton University and the Ohio State University. He also received rabbinical ordination from Yeshivat Chovevei Torah Rabbinic School in New York.
His research deals in Jewish intellectual history, with a focus on political and legal thought. Kaye's new book, "The Invention of Jewish Theocracy: The Struggle for Legal Authority in Modern Israel," is forthcoming in January 2020 from Oxford University Press.
The theme of his lecture, "galut," commonly translated as "exile," is a very old term that Jews have used to describe their condition. Originating in the context of the Jewish diaspora in antiquity, the expression once primarily meant geographical displacement from the land of Israel. In time, it became a political, then a theological, ultimately even an existential concept.
Kaye's lecture examined the ways this ancient idea has been refashioned as it encounters modern phenomena, such as mass migration, statelessness and political exile, and modern philosophies such as existentialism, communism and nationalism. In a time of political upheaval, "galut" remains a key term in the way Jews are understood, by themselves and others, he said.