Brandeis Alumni, Family and Friends
Bluestone Award Winner Recounts Her Journey from "Life in a Caste-Ghetto" to Published Scholar
November 19, 2019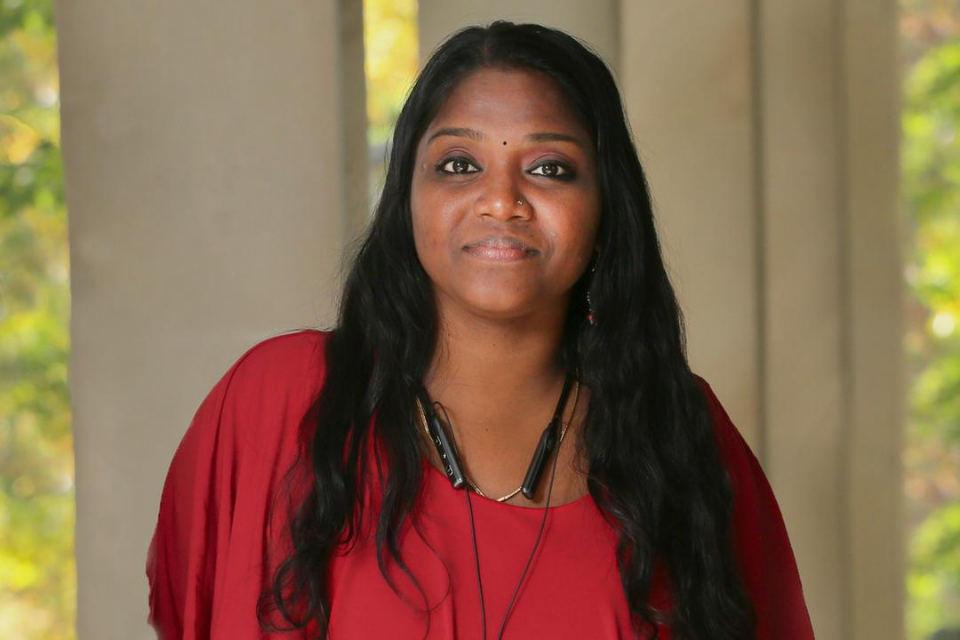 Photo Credit: Mike Lovett
Growing up in the Indian state of Kerala among the Dalits – once called "Untouchables" – Maya Pramod lived in a shack without electricity, walking to school along the railroad tracks that ran past the cramped ghetto that was her home.
An early memory was seeing the mangled remains of people who had committed suicide, driven by despair onto the train tracks, being wrapped in pandan-leaf mats for removal. She recalls a seventh-grade teacher leading her by the hand from a bench at the front of the class to one at the back reserved for her "folk." Pramod, now a PhD research scholar at the Department of PG and Research Centre in History, Christ College (Autonomous) Irinjalakuda, University of Calicut, describes her experience in a paper, "As a Dalit Woman: My Life in a Caste-Ghetto of Kerala," which was chosen as a top entry in an international competition sponsored by a new journal at Brandeis.
Her paper is to be published this month in the upcoming first edition of the journal, "Caste: A Global Journal on Social Exclusion," and Pramod has been named one of two inaugural Bluestone Rising Scholar Award winners for 2019.
She was honored at a ceremony at the Heller School for Social Policy and Management on Oct. 15 along with this year's other Bluestone Rising Scholar, Vivek V. Narayan, a theater director, playwright and performance scholar who recently earned a doctorate at Stanford University.
"I'm so shocked, so excited – sometimes I'm crying," Pramod, 31, said before the event. 
What is distinctive about Pramod's article is that it is written from the perspective of a Dalit person herself. The new journal, called J-CASTE for short, is dedicated to scholarship on caste and other birth-based social hierarchies in the world. An aim is to give voice to the voiceless.
Historically called "Untouchables," the Dalits are members of the lowest social group in the caste system of India. They performed jobs considered unclean that nobody else wanted to do, such as preparing bodies for funerals, killing pests, handling night soil or medical waste, or tanning hides. Those born into the class of Dalits – a name they've given themselves meaning "oppressed" or "broken" – were born beneath the four primary castes, and could not rise above their station in this lifetime, according to traditional belief.
According to a 2011 census, the number of Dalits in India exceeds 200 million, or nearly 17 percent of the country's population of 1.2 billion, and may be significantly higher. Pramod estimates there are more than 50,000 "caste colonies" in her home state of Kerala.
Dalits still face discrimination and even violence from members of higher castes. In recent years, lynchings of India's minorities have surged.
Once Dalits weren't allowed to be taught to read. Since India's independence in 1947, reform measures have been introduced to give those now labeled "scheduled castes" greater access to housing and education.
Pramod's high exam scores in secondary school earned her a scholarship to college. Now she is pursuing a doctorate in social science. Still, she faces challenges. "The privileged spaces are closed to me in my academic career, sometimes," Pramod says. "So painful."
The case she makes in her paper is that housing settlements established for Dalits have crammed residents into ghettos and thus reinforced traditional caste disadvantages. She described the typical living space for an entire family as half the size of the Faculty Club lounge in which she was interviewed before the recent event at Brandeis.
Pramod sees the Bluestone prize as an achievement for her community. "I'm very proud of the moment," she said.
The Bluestone Rising Scholar Award is named in memory of the late Seymour "Sy" Bluestone, whose bequest to the Center for Global Development and Sustainability at the Heller School advances social-justice research.
The Bluestone prize competition invited submissions from early-career scholars whose work focuses on issues of birth-based discrimination throughout the world. An international jury chose two papers for prizes from among the 70 submitted.
Brandeis' first peer-reviewed academic journal, J-CASTE is a project of the Center for Global Development and Sustainability in collaboration with the Brandeis Library. The new journal is inspired by the mission of Brandeis' founders, says Laurence Simon, professor of international development and the Center's director. "Brandeis' founding president, Abram Sachar, spoke of the 'special character' of the new university 'built around a sense of social consciousness, a concern for the underdog, and resistance to any kind of discrimination,'" says Simon.
That spirit informs the new journal and the Bluestone prize competition, he says.