Brandeis Alumni, Family and Friends
A Front Seat to Musical History
January 2, 2018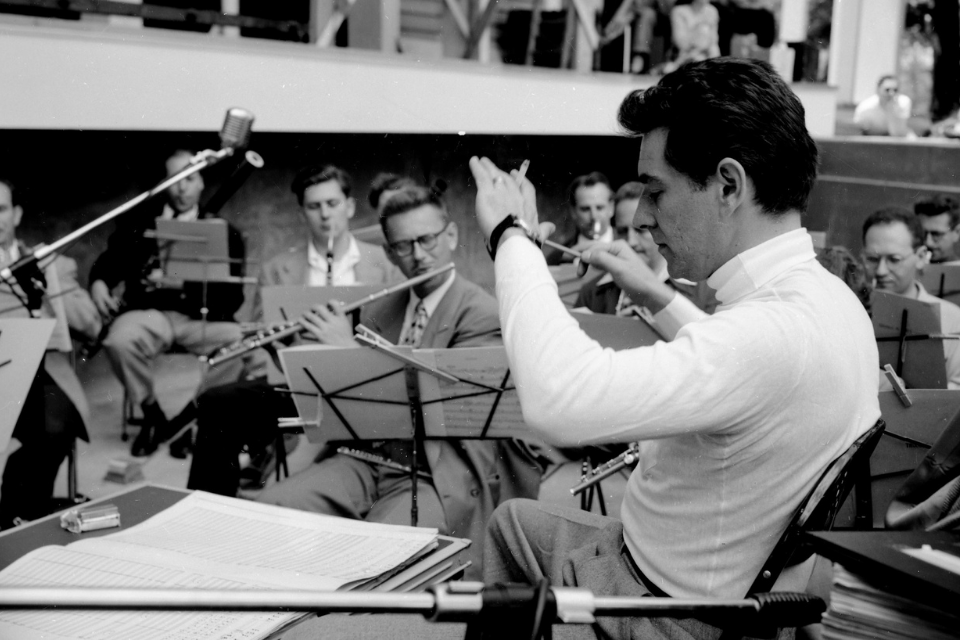 By Brian Klotz
The bond between Richie Silverman '54 and renowned composer, conductor and faculty member Leonard Bernstein began when he walked out on the maestro's music history class in 1952.
"The assignment was to listen to Alban Berg's 'Violin Concerto,'" Silverman explains, "and I literally couldn't stand it."
Silverman, who later became a teacher himself, marveled at Bernstein's reaction. Instead of becoming angry or flunking his opinionated student, he sympathized, agreeing that it could be difficult to listen to Berg's notoriously atonal piece.
"Lenny was gentle, kind and brilliant beyond brilliant," says Silverman, who took both "Symphony in the 20th Century" and "Opera in the 20th Century" with Bernstein.
Alban Berg's piece aside, Silverman greatly enjoyed Bernstein's classes. He was particularly impressed with how the future "West Side Story" composer engaged with students who came to class with varying levels of subject knowledge. Even Silverman, a lifelong music lover, found his horizons widened. "Before that class, I had never even listened to Gustav Mahler," he says, "and now I'm a devotee."
Bernstein would walk into class, his coat draped over his shoulder, talking about his work on a new musical called "Wonderful Town." He made sure each student understood the material, even if it meant staying after class to provide extra help. "No student had a bad word to say about Lenny," says Silverman.
Silverman recalls what founding Brandeis president Abram Sachar would tell the students during that era: "You don't pick your classes, you pick your professors."
"We had some of the world's greatest minds teaching us," says Silverman, adding that he had a friend from Harvard who always wanted to sit in on classes.
Forming a friendship with Bernstein, Silverman was eager to volunteer when the composer directed the university's inaugural Festival of the Creative Arts, an annual event that now bears his name. Since he lacked the know-how to work backstage, Silverman volunteered to drive Bernstein and his wife, Felicia Montealegre, wherever they needed to go over the three days of the event.
After graduation, Silverman sporadically kept in touch with Bernstein, whose fame was fueled by "West Side Story" and a series of televised lectures and performances on CBS. Meanwhile, Silverman became a law professor at Aoyama Gakuin University in Tokyo, Japan. In the '70s, their paths crossed again when Bernstein brought the New York Philharmonic to Tokyo for a series of performances.
Unable to acquire tickets to the sold-out events, Silverman called Bernstein at his hotel. To his surprise, the famed composer invited his former student to be his personal guest for the entire run of shows. Silverman rode with Bernstein to the venue in his limousine, had full access to the backstage area and sat on the side of the stage for every performance. In thanks, Silverman threw a party for Bernstein in his Tokyo apartment, which Boston Symphony Orchestra conductor Seiji Ozawa also attended.
In the '80s, Silverman moved to Los Angeles, and enjoyed seeing Bernstein whenever he would come to the Hollywood Bowl. They remained in touch until Bernstein's death in 1990.
"We were good friends for almost 40 years," says Silverman. "He was an important part of my life."