Brandeis Alumni, Family and Friends
Student Honored With Linda Heller Kamm '61 Prize for Commitment to Social Justice
May 10, 2019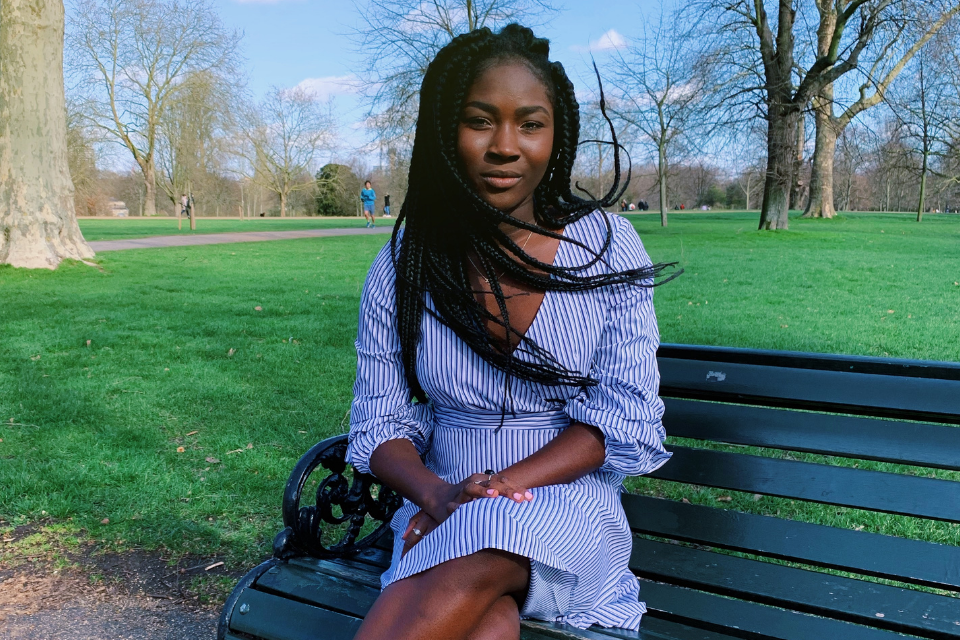 By Heather Salerno
Elizabeth Dabanka '20 arrived at Brandeis in 2016 determined to make a difference. She's done just that, spearheading initiatives that promote diversity and inclusion. Her contributions have been noticed, too. Dabanka was recently awarded the Linda Heller Kamm '61 Prize, an honor given each year to an undergraduate demonstrating strong leadership as a social justice advocate.
A double major in international and global studies and politics, Dabanka was a key player in a Brandeis Student Union initiative to place free menstrual products in select bathrooms across campus. She assisted with a trial run to determine the program's efficacy, compiled data from hundreds of student surveys and wrote a proposal for university review. The effort was successful: Earlier this year, tampons and sanitary napkins were stocked in eight bathrooms, including a gender-neutral bathroom in the Shapiro Campus Center.
Dabanka feels strongly about the issue, noting that students should have access to such products because menstruation is a natural, bodily function. It's also a concern for those who are struggling financially. "At Brandeis, people come from all kinds of economic backgrounds, and this is a fundamental need," she said.
As co-chair of the Student Union's Social Justice and Diversity Committee, Dabanka also worked with members of the Muslim Student Association in 2018 to bring Syrian-American poet Amal Kassir to 'DEIS Impact, the university's annual social justice festival. After watching Kassir's powerful online TED Talk about Islamophobia, Dabanka knew Kassir could help combat misunderstanding about Muslims. "We get all kinds of wonderful speakers, but I wanted to bring in someone who isn't normally represented," she said. In addition, Dabanka organized an interfaith event that brought together students and staff. "Part of deconstructing any kind of ignorance and hate is to talk about it," she said.
Born in Ghana, Dabanka and her parents immigrated to America when she was seven. She grew up in Rhode Island and attended private schools where most students were people of color. That changed in ninth grade, however, when she entered a predominantly white high school. "I definitely felt like an outsider," she said. "For the first time in my life, I was a minority, and I hadn't really thought about those differences until I was confronted with it."
She is humbled to have received the social justice prize, which was established by Linda Heller Kamm '61, the first woman to be appointed as a general counsel of a U.S. cabinet department. Students nominate each other for the $1,000 award, intended by Kamm to encourage interest in public service careers.
Dabanka hopes to attend law school and possibly focus on civil rights or immigration. "Knowing the law and being aware of your rights is a powerful tool," she said. "Not only do I want that information for myself, I want to be able to provide that to others."