Brandeis Alumni, Family and Friends
Social Justice WOW Interns Describe Summer Spent 'Pursuing Passions'
November 25, 2019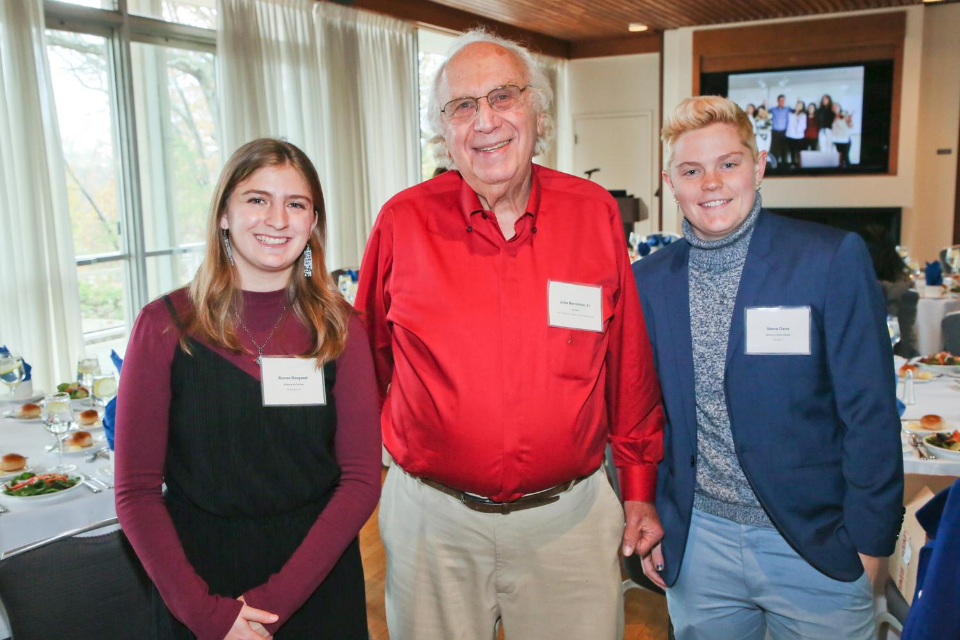 Photo Credit: Mike Lovett
Jules Bernstein '57 recalls how he spent summers as a Brandeis undergraduate and then as a University of Chicago law student during the 1950s: waiting tables at Camp Onibar, a resort in the Poconos.
"It was a very rewarding experience," said Bernstein, a Washington, D.C. labor lawyer. "Working as a waiter was very important and helpful. But I think opportunities such as these students have in the summer have it beat," he said.
Bernstein spoke at the annual Louis D. Brandeis Legacy Fund WOW Fellows luncheon.
He is the founder and primary benefactor of the Louis D. Brandeis Legacy Fund for Social Justice, which provides stipends for Brandeis undergraduates pursuing summer internships at non-profit organizations.
The $4,000 stipend gives students the opportunity to accept non-paying internships with social justice groups and gain professional experience while doing good.
Students who received internship stipends this past summer attended the WOW – short for World of Work – Fellows luncheon at the Brandeis Faculty Club on Nov. 14.
This past summer the interns worked at non-profits devoted to justice reform, women's rights, non-discrimination, the environment and other causes.
More than 300 Brandeis students have benefited from the internship stipends over the past 12 years. The awards are granted and administered through the Hiatt Career Center's World of Work (WOW) fellowship program.
"It's rewarding to see these Brandeisians who have done such great work over the summer at so many social justice entities around the country," Bernstein said. "It's a very substantial program and I'm glad to be part of it."
Bernstein said he has heard back from many summer interns years later. "They've gone on to become social justice advocates, non-profit practitioners, lawyers, social workers, involved in political matters," he said. "This is a good start."
Two students who spoke at the luncheon described their experiences as interns this past summer.
Sierra Dana '20, of Lombard, Illinois, majoring in politics and women's and gender studies, interned at Restore Justice Illinois, which advocates for reforming the criminal justice system in that state.
"It's something I could definitely see myself continuing to do in the future," said Dana, who learned about lobbying state government in support of prison reform legislation. She noted her father works for the federal prison system. "We butted heads a little bit," she said, with a smile. "All in all, it was very exciting, a learning experience (that) I'm very glad I had."
Renee Korgood '20, of Merrick, New York, majoring in politics and history, interned in Washington, D.C. at Alliance for Justice, which promotes a progressive-minded judiciary and access to justice for all Americans.
She said she took from her experience in Washington that she'd prefer to work "where change can be made quickly," at the community level. "I'm very grateful for the opportunity to have worked for (such) an incredible organization," she said. "I learned so much."