Brandeis Alumni, Family and Friends
Class of 2010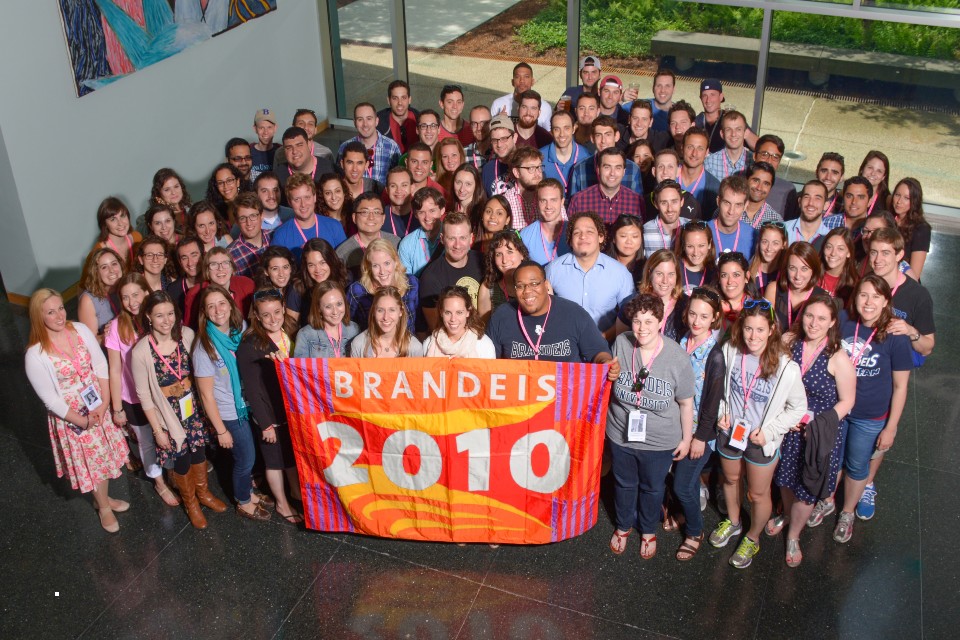 Celebrate Your 10th Reunion!
Save the date for the Brandeis Class of 2010 10th Reunion during our Alumni Weekend 2021, June 11-13, which will be held fully online. Alumni Weekend 2021 will bring you back to the place you once called home — from the comfort of your own home!
By making this decision early, your class reunion committee can continue planning meaningful ways to bring the class together virtually. No travel. No masks required. No reason not to participate! 
We'll be in touch as programs are finalized, and you'll hear from your class committee directly about virtual reunion events that will take place leading up to and throughout the weekend.
Questions? Contact Ashley Freccia, associate director of alumni relations, at afreccia@brandeis.edu or 781-736-4039.
10th Reunion Class Gift
Many alumni take advantage of their milestone reunion year to make a meaningful contribution to Brandeis. Make a gift online in honor of your class. The Class of 2010 has chosen The Brandeis Fund — Student Emergency Fund as its focus for the Class Gift. The Student Emergency Fund provides emergency grants to undergraduate and graduate students who need help with short-term financial emergencies.
Contact Casey Zierler, associate director of direct marketing and participation, at czierler@brandeis.edu or 781-736-4154 for more information about giving opportunities.
Keep in Touch
Leading up to your reunion and after, take advantage of these opportunities to connect with members of your class:
Class Notes
Read updates about your classmates in the Class Notes section of Brandeis Magazine. Have an update of your own? Submit a class note today!
Facebook Group
Join the Class of 2010 Facebook group to follow along with updates about who is attending Alumni Weekend and reconnect with classmates!
Meet Your Class Reunion Committee
The following alumni volunteers are helping to make your upcoming reunion possible:
Jason Gray, Co-chair
Jessica Willingham, Co-chair
Julia Alpaio
Tamar Ariel
Justin Backal-Balik
Michelle Barras
Jenna Brofsky
Mariah Rich Collins
Alison Dillon
Denisse Dubrovsky
Jacqueline Feinberg
Allyson Goldsmith
Evan Green-Lowe
Liane Hypolite
Shana Lebowitz
Gabriel Marwell
Deborah Mirabal
Allison Morse
Lauren Papiernik
Ria Roberts
Seth Rogers
Nathaniel Rosenblum
Jonah Seligman
Alana Tilman