Brandeis Alumni, Family and Friends
Class of 1971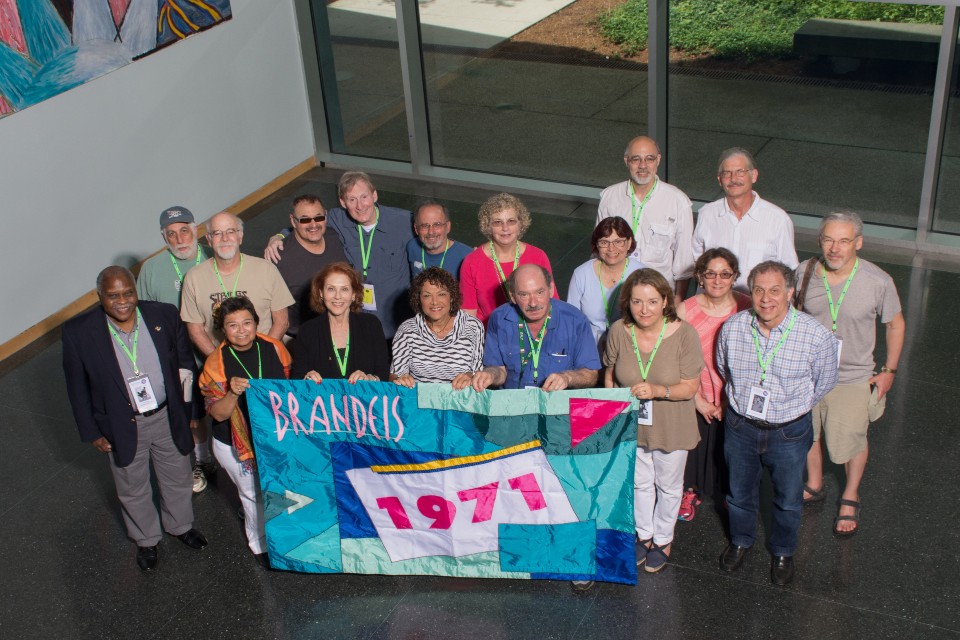 Celebrate Your 50th Reunion!
Save the date for the Brandeis Class of 1971 50th Reunion during our Alumni Weekend 2021, June 11-13, which will be held fully online. Alumni Weekend 2021 will bring you back to the place you once called home — from the comfort of your own home!
By making this decision early, your class reunion committee can continue planning meaningful ways to bring the class together virtually. No travel. No masks required. No reason not to participate!
At the same time, we recognize the special milestone reunion you are celebrating, and will plan to bring your class together in-person at a future date. You'll hear from your class committee directly as plans for the in-person celebration are confirmed and as additional virtual reunion events are finalized.
In October 2020, to kick off the 50th Reunion celebration, the Class of 1971 enjoyed a special conversation with Professor Stephen J. Whitfield, PhD'72. The focus of the discussion was your time at Brandeis as discussed in Steve's just-published book, Learning on the Left: Political Profiles of Brandeis University (Chapters 9-14). View the recording of the event.
In February 2021, the Class of 1971 enjoyed a virtual panel discussion, moderated by Dr. Arthur Caplan '71, that featured your esteemed '71 classmates, Dr. Steven Berk, Dr. Deborah Cotton and Dr. Susan Reich Weiss, offering their unique perspectives as infectious-disease experts on the COVID pandemic. View the recording of the event.
Questions? Contact Ashley Freccia, associate director of alumni relations, at afreccia@brandeis.edu or 781-736-4039.
50th Reunion Yearbook
Submit an entry to the Class of 1971 50th Reunion Yearbook by Sunday, March 21!
A free digital yearbook will be distributed to your class prior to Alumni Weekend. 
50th Reunion Class Gift
Many alumni take advantage of their milestone reunion year to make a meaningful contribution to Brandeis. Make a gift online in honor of your class.
Class of 1971 Scholarship: established during the Class of 1971's 40th Reunion, offers needed scholarship help to students.
Contact Alan Bertman, director of leadership annual giving, at abertman@brandeis.edu or 781-736-4032 for more information about giving opportunities.
Please consider leaving a legacy at Brandeis. If you have questions or would like information on planned giving, contact Maria Miller, J.D., Executive Director of the Office of Planned Giving at plannedgiving@brandeis.edu.
Keep in Touch

Class Notes
Read updates about your classmates in the Class Notes section of Brandeis Magazine. Have an update of your own? Submit a class note today! 
Facebook
Join your class Facebook group to get updates on classmates and more information about your upcoming reunion.
Meet Your Class Reunion Committee
The following alumni volunteers are helping to make your upcoming reunion possible:
Allen Alter, Co-chair
Susan Jay, Co-chair
Leroy Ashwood
Jonathan Barkan
Sandra Baron
David Bell
Arthur Caplan
Barbara Dortch-Okara
Barry Elkin
Mark Kaufman
Phyllis Kayten
Jackson Koffman
Richard Kopley
Joel Leffler
David Maeir-Epstein
Margaret (Peggy) McDormand
Matthew Rifkin
Jason Sommer
Michael Swartz
Anita Sammartino Tekle
Lucy Balter Weinstein
Ruth Witztum
Barbara Zimet