Brandeis Alumni, Family and Friends
Class of 1961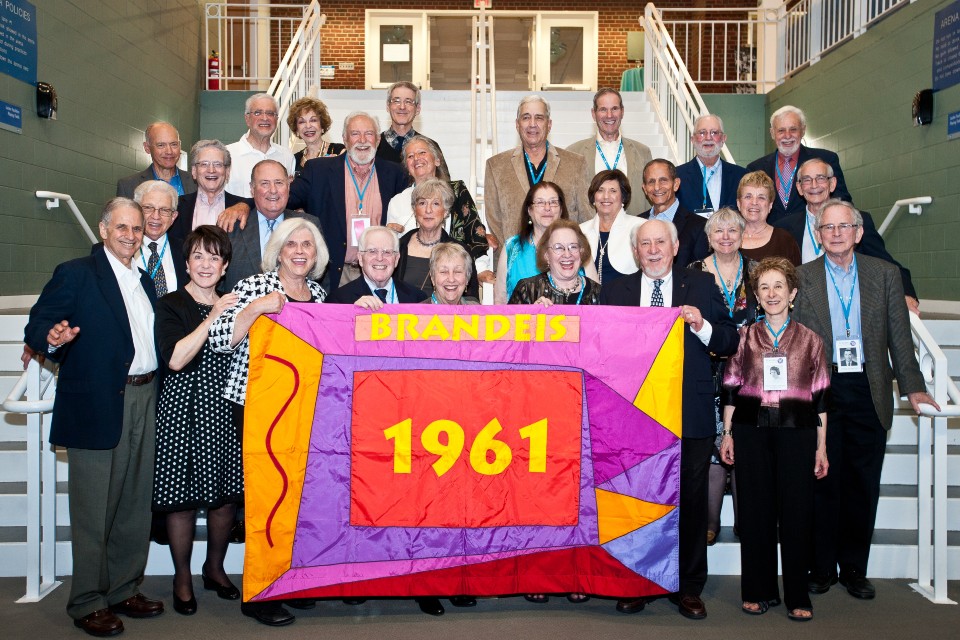 Celebrate Your 60th
 

Reunion!

Save the date for the Brandeis Class of 1961 60th Reunion during our Alumni Weekend 2021, June 11-13, which will be held fully online. Alumni Weekend 2021 will bring you back to the place you once called home — from the comfort of your own home!

By making this decision early, your class reunion committee can continue planning meaningful ways to bring the class together virtually. No travel. No masks required. No reason not to participate! 

We'll be in touch as programs are finalized, and you'll hear from your class committee directly about virtual reunion events that will take place leading up to and throughout the weekend.

Questions? Contact Amanda Genovese '15, assistant director of alumni relations, at agenov@brandeis.edu or 781-736-4029.
60th Reunion Yearbook
Submit an entry to the Class of 1961 60th Reunion Yearbook by Sunday, March 21!
A free digital yearbook will be distributed to your class prior to Alumni Weekend. 
60th
 

Reunion Class Gift

Many alumni take advantage of their milestone reunion year to make a meaningful contribution to Brandeis. Make a gift online in honor of your class.

Student Emergency Grant Fund: In response to the coronavirus/COVID-19 outbreak, the university is meeting the unique needs of students on an individual basis and has taken immediate action to ensure safety is paramount. This fund exists for precisely this situation - to provide urgent and emergency funds to students in need. 100% of the funds raised will assist Brandeis students in the face of this crisis.

Contact Jonathan Skidmore, associate director of leadership annual giving, at jskidmore@brandeis.edu or 781-736-3005 for more information about giving opportunities.

Please consider leaving a legacy at Brandeis. If you have questions or would like information on planned giving, contact Maria Miller, J.D., Executive Director of the Office of Planned Giving at plannedgiving@brandeis.edu.
Keep in Touch
Leading up to your reunion and after, take advantage of these opportunities to connect with members of your class: 
Class Notes
Read updates about your classmates in the Class Notes section of Brandeis Magazine. Have an update of your own? Submit a class note today!
Yearbook
View the Class of 1961 55th Reunion Yearbook here!
Meet Your Class Reunion Committee
The following alumni volunteers are helping to make your upcoming reunion possible:
Judy Schatz, co-chair
Michael Schatz, co-chair
Morris Blachman
Stephen Bluestone
Stephen Candell
Sue Candell
Ron Carner
Brenda Cipriano
Shepard Cohen
Fran Perlman Freedman
Jeff Golland
Micky Josephs
Linda Kamm
Leslie Kingsley
Walt Klores
Bruce Litwer
Marc Lubin
Richard Mazow
Steve Reiner
Barbara (Paula) Resnick
Sharon Pucker Rivo
Adrienne Rosenblatt
Judy Sloan
Judith Zabin
Marty Zelnik