Brandeis Alumni, Family and Friends
Alumni LGBTQ Advocates Reflect on Ideals that Inspired them During Pride Month
June 5, 2020
"Pride is a beautiful time to bring voices that have been silenced for so long forward into the light." — Alesdair H. Ittelson '08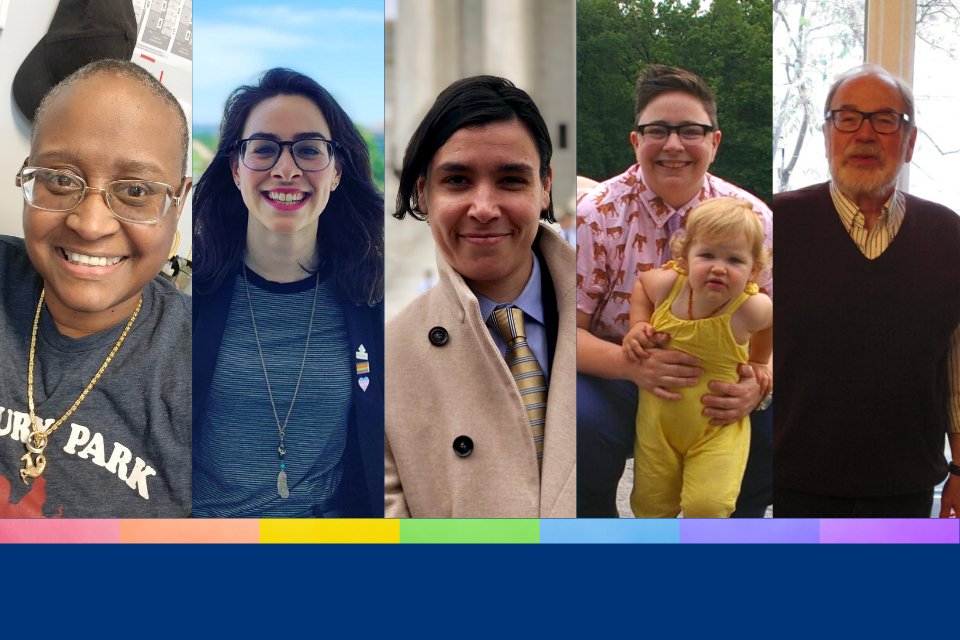 Archiving Boston's gay history. Providing healthcare for LGBTQ veterans and housing for homeless LGBTQ youth. Crafting public policy that ensures equity for everyone. These are just a few of the ways Brandeis alumni are making a positive impact in the LGBTQ community.
During Pride Month, which commemorates the Stonewall riots of June 1969 that helped launch the Gay Liberation movement and the enduring fight for LGBTQ rights, the idea of "repairing the world" holds special resonance for many. The concept — in Hebrew, "tikkun olam" — is one of Brandeis' animating principles, a common thread uniting Brandeisians across generations who have advanced the cause of justice by serving others who have been left out or marginalized.
This year marks the 50th anniversary of Pride celebrations in the United States. Although the traditional Pride parades, parties, concerts and educational workshops are mainly canceled this year due to COVID-19, we as an alumni community can still celebrate Pride virtually by sharing alumni stories.
Several alumni whose personal and professional efforts have made a difference in the LGBTQ community were invited by the Brandeis Alumni Association to reflect on how the concept of "repairing the world" has inspired their lives and vocations.
They describe the milestone advances they're celebrating this June, and the areas where they feel progress on social justice still needs to be made. They share how the fight against systemic racism is connected to the fight for LGBTQ rights. And they discuss how their Brandeis experiences shaped their paths, and offer a word or two of advice to today's students.
Aliya Bean '16 was immersed in policy-making on Capitol Hill as interim executive director of the Congressional LGBT Equality Caucus in the U.S. House of Representatives.

Renee Chapman-Best '81 left the corporate world to pursue a calling in social services as an advocate for homeless youth in New York City and Los Angeles.
Alesdair H. Ittelson '08 is a noted legal advocate on behalf of intersex youth who has been named one of the nation's Best LGBTQ Lawyers Under 40.
Marvin Kabakoff '68 is a historian and longtime veteran of the gay rights movement who serves on the board of Boston's LGBTQ archives and chairs his synagogue's Rainbow Committee.
Alexis "Lexi" Matza '98 provides welcoming healthcare services for LGBT veterans as deputy director of the Veterans Health Administration's LGBT health program.